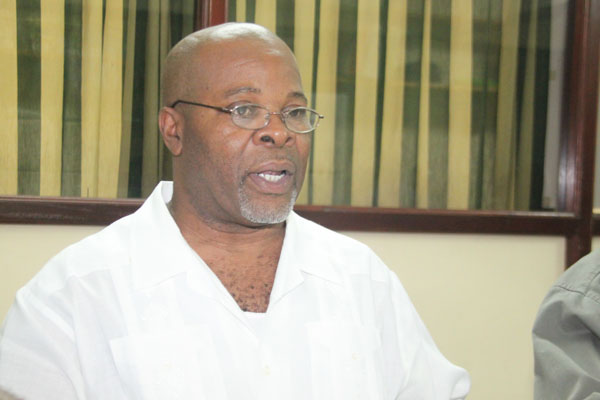 Philipsburg:--- There is crisis on St. Maarten and the government is lacking by failing to take appropriate actions. Spokesman for the Windward Islands Health Care Unions and Associates (WIHCUA) Greg Arrindell said the health care and sustainability of the St. Maarten Medical Center continues to deteriorate. So far, the union has sent several letters to Parliament and to date they have not received a response while they also requested a meeting with Minister of Health and Labor Cornelius de Weever.
Arrindell said that the Government of St. Maarten has refused to provide a letter of guarantee for the St. Maarten Medical Center to obtain financing for its expansion. "St. Maarten is in a dire crisis and the government is not taking the necessary steps to provide the letters of guarantee so that the St. Maarten Medical Center can achieve the necessary financing for its expansion." Arrindell said the RBTT, Orco Bank, and WIB denied SMMC financing. Deputy Prime Minister Theodore Heyliger has intervened in the past on one occasion but also failed to provide a guarantee from government." Arrindell said discussions were also held with Banco Di Caribe and some studies had to be conducted but that too died down.
One option that was proposed was to have St. Maarten Medical Center obtain its 14 million guilder loan from SZB. Eight million was to be taken from the pension fund while government was supposed to commit itself to an annual subsidy of Naf 1.5 million for a period of ten years. However, negotiations fell through when the government of St. Maarten said they would only provide the written agreement on behalf of SZB if they were to be involved in the project.
Arrindell said to date all efforts by the St. Maarten Medical Center to obtain finances for the well needed hospital is just lip service since the government of St. Maarten is not living up to its obligations.
Arrindell said while all of this is taking place the St. Maarten Medical Center has signed a Memorandum of Understanding with the BES islands to provide medical services for them. The SMMC also just recently learned that while the BES is willing to become equal partners with St. Maarten no official request for financing was submitted to them.
The current set back has caused the St. Maarten Medical Center to evacuate its patients to other countries such as Venezuela and Santo Domingo. Arrindell condemned government for not being proactive and therefore jeopardizing the well being of its people and visitors.
He further explained that since the SMMC is not able to expand, the union WIHCUA would have to take the necessary steps to protect its workers. He said irresponsible behavior from elected officials is causing the health care professionals to seek employment elsewhere.
When asked if the new tourism medical clinic that is expected to be built in Simpson Bay is preventing government from giving the letter of guarantee. Arrindell said the government is making adhoc decisions because instead of seeking to build a second hospital which would only cater to the rich, they should try to strengthen their own local institution. Furthermore, he explained that none of the banks on St. Maarten will give SMMC a loan when there is a threat that they will not be able to meet their financial obligation at the end of the month.