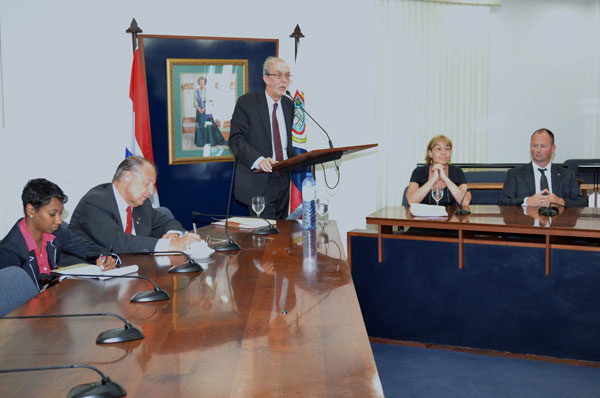 Great Bay:--- Recently the Directorate of Foreign Relations (DBB) of Sint Maarten organized an informative session on treaties and their importance for the country.
Limburg and 't Hoen, Head and Deputy Head, Treaties Division of the Ministry of Foreign Affairs of the Kingdom of the Netherlands, were welcomed to Sint Maarten by the Director of DBB, Guy van der Meulen.
DBB, a directorate falling under the Ministry of General Affairs, and a responsibility of the Prime Minister, coordinates treaty matters with the Dutch Ministry of Foreign Affairs in The Hague, as well as with its counterparts in Aruba and Curacao.
Among the attentive audience were the Honourable Prime Minister Sarah Wescot Williams, Hon. Minister of Education Rhoda Arrindell, members of Parliament and several Secretary Generals from the different ministries..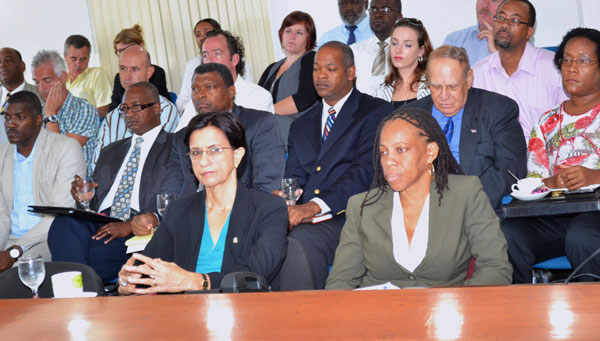 Limburg discussed treaties as an instrument of foreign relations. Under international law, the Kingdom of the Netherlands can make agreements with other countries.
These agreements are legally binding. Under the Kingdom Charter treaties can also be concluded on behalf of Sint Maarten, Aruba and/or Curacao. Unlike treaties, Memoranda of Understanding (MOU's) are non-binding agreements, contrary to common perception.
As a small State, the Kingdom of the Netherlands has a lot of foreign partners with whom to conclude agreements. This is demonstrated by the large amount of treaties. After October 10, 2010 over 1500 treaties from the former
Netherlands Antilles were passed on to Country Sint Maarten.
Amongst the treaties binding the Kingdom, are agreements relating to terrorism, the avoidance of double taxation, migration, extradition, air transport, prisoner transfer, the environment and the protection of nature and wildlife.
The presentation was received with great interest. Further information on the lecture can be obtained from DBB and www.minbuza.nl/verdragen.