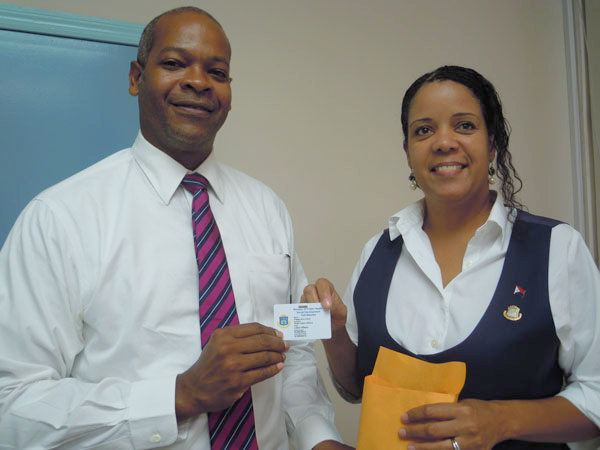 Great Bay:--- The Ministry of Public Health Social Development & Labor introduced name badges to their staff of the Departments of Labor Affairs, Social Affairs, Collective Preventive Services, Community Development and Public Health recently.
The purpose of wearing these mandatory badges, is so that the names of the workers will be visible to their clients and clients in turn will know who they are conducting business with.
Having name badges introduced to staff, especially those dealing directly with the public has been of utter importance to Minister of Public Health Social Development & Labor, Cornelius De Weever, as this portrays a good presentation to the public.
"I have received compliments and complaints from many people but when I ask them what is the name of the person who provided the service I get a description instead. With the badges our clients can now report by name as we continue to improve our customer service, said Minister De Weever."
Head of the Department of Labor Affairs, Peggy Ann Dros stated that "being able to be readily identifiable to our customers is important, giving them the opportunity to praise us when we do things well, and inform us of areas we can improve on. Additionally, we will continue to strive towards 'customer-empowerment' by implementing a Ministry-wide Complaint System, with the intention to launch this within short."
The name badges are a mandatory part of the presentation of all the staff members that received them, and all staff members are required to wear the name badge, visible at all times to the customer.