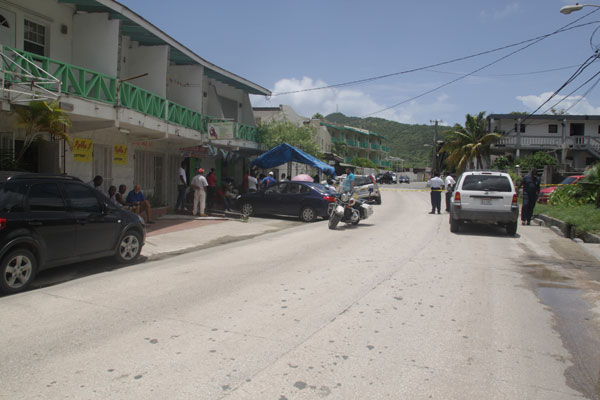 Illidge Road:--- A drive-by shooting in close proximity of Cat's Guess House on A.T Illidge Road has left two men dead while a female victim remains in critical condition confirmed Acting Police Spokesman Geronimo Juliet.
The two deceased persons have been identified as Aric Lake and his cousin Kevin Gumbs. Aric Lake it is understood was a person of interest to several gang members and one who might in one way or another be linked to the murder of Amador Jones and the murder of the Arrindell brothers.
On the scene there were several detectives along with the forensic department collecting evidence. Chief Commissioner of Police Peter de Witte and Acting Police Spokesman Geronimo Juliet confirmed that there was a shooting at Cats Guess House located on Illidge Road and as a result two persons are now dead while a third person is in critical condition.
SMN News learnt that the recent spate of killings is gang related and it can be considered as the settling of accounts in the criminal world.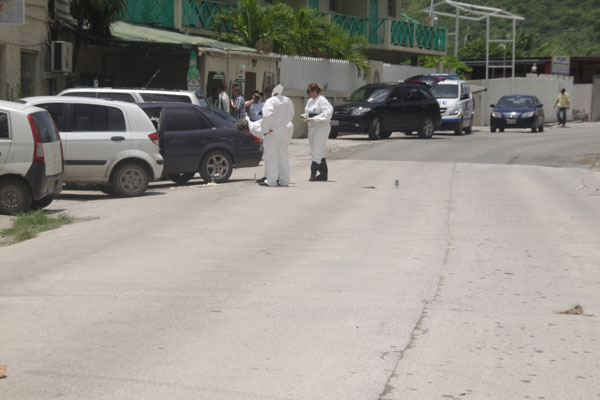 On the scene, there were about six marked spots where the detectives found spent shells on the A.T Illidge road.
Several persons in the area said they heard the shots including the owner of Cats Guess House. Acting Police Spokesman Geronimo Juliet said the shooting took place outside of the beauty salon that is located in the small arcade underneath Cat's Guess House. Detectives were also seen questioning the occupants of the salon that were there at the time of the shooting.
Detectives that were processing the crime scene were also checking the surveillance cameras of several businesses in the area to see if they could pinpoint the shooters. Detectives also took away a video camera from a photo journalist who made his way into a private home inside of the crime scene and was filming the actual processing of the crime scene.
A bystander on the scene said that shortly after the shooting he was returning from the French side when he noticed a white car with dark tinted windows speeding towards the French Border. The unidentified man said the speeding car drove pass him and large truck in his bid to probably escape. He said he could not ascertain if the culprits in the white tinted vehicle was in anyway involved in the brutal killing but felt it odd that drivers would risk an almost head on collision with a huge truck to get over to the French side.

Click here to view more photos of the crime scene.