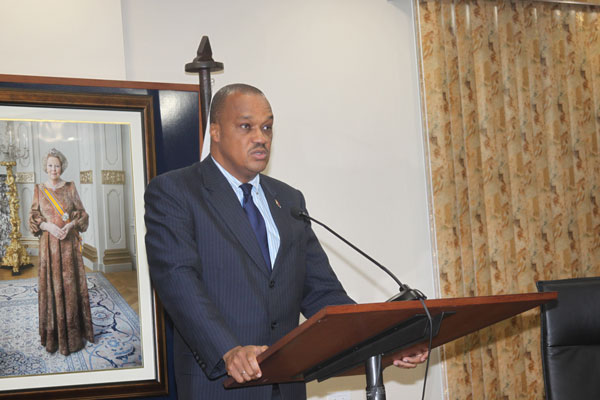 Philipsburg:--- Minister of Finance Roland Tuitt finally released some travel expense figures that the government of St. Maarten endured for the year. SMN News requested the figures regarding travel expenses for politicians when this media house learnt that the government owed Let's Travel huge sums of monies and the company's new manager was pressuring government for what is owed to them.
Tuitt said from January to May Naf.72,548.73 (seventy two thousand, five hundred and forty eight guilders and seventy three cents) was used on travel expenses while from June to August the amount is Naf. 361,965.40 (three hundred and sixty one thousand, nine hundred and sixty five guilders and forty cents). Tuitt said the latter figure which is over three hundred thousand guilders includes the fares for the students that received study financing and travelled to various parts of the world to continue their education. He said the total expenditure for travelling from January to August 2012 amounts Naf. 434,514.13 (Four hundred and thirty four thousand, five hundred and fourteen guilders and thirteen cents. Even though the Minister provided the figures, he did not say how much of the amount has already been paid to the travel agency neither did he release the figures of the debts government had owed the company prior him to taking office.
The Rights and monies that will be paid to the former Ministers.
The Finance Minister also released the amount of monies the government of St. Maarten would have to pay four of the former Ministers who were in government just some months ago. Tuitt said former Minister of VROMI Theodore Heyliger, former Minister of Tourism and Economic Affairs Franklin Meyers and former Minister of Education, Youth, and Sports Rhoda Arrindell will receive compensation during the bridging period. This bridging period is in place for the individuals to find other employment or start a business of their own. Tuitt said if these individuals are receiving income they also have to report it to government every three months and their income will be subtracted from the amount that is stipulated for them to receive. For the first three months these former Ministers will receive 95% of their salary, the following seven months 85%, then for the other ten months 75%. Thereafter up to a maximum period of two years 70%. Tuitt said the former Ministers sat in office for a period of 20 months therefore they will be compensated for 20 months. Tuitt said if Heyliger, Arrindell, and Meyers claim the complete amount each of them will get Naf. 321,696.80 (three hundred and twenty one thousand, six hundred and ninety six guilders and eighty cents). As for the former Minister of Finance Hiro Shigemoto who is a civil servant, he will receive Naf. 81,279.80 (eighty one thousand, two hundred and seventy nine and eighty cents) should he claim the whole amount. Tuitt said Shigemoto was a civil servant prior to becoming a Minister therefore he will return to the civil service where he will be placed in one of the available positions.