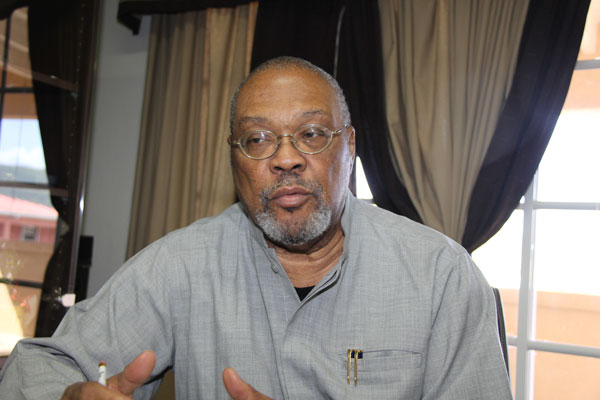 Philipsburg:--- The Minister of Justice Roland Duncan told SMN News in an invited comment on Thursday that the Director of the Pointe Blanche Prison Edward Rohan is working on an action plan for the kitchen at the Pointe Blanche Prison. Minister Duncan said that he did receive the report that the Inspectorate of Health delivered on Wednesday to the prison but they are now working on an action plan to execute the advice provided to them by the Inspectorate of Health. The Inspectorate of Health conducted a control at the house of detention on Tuesday morning and wanted to close the kitchen because of its deplorable conditions. According to information provided to SMN News, the kitchen sinks were in terrible condition which poses severe health risks, the oil pits were leaking, and there was water running everywhere. Minister Duncan said that the kitchen is over 25 years old and he can guarantee that no one will be poisoned or get killed because of the dilapidated state of the kitchen at the Pointe Blanche Prison.
SMN News learnt that the Minister of Justice managed to find a workable and suitable kitchen at the Mental Health Foundation in Cay Hill. A reliable source said that the Minister found the new location because the Pointe Blanche Prison needs a new kitchen and that new kitchen is part of the Minister's plan in the Justice Park project. While the Minister of Justice introduced the one hundred million guilder project to Parliament, it has not yet been presented to them for approval.
When SMN News reporter asked the Minister of Justice about the new location he found in Cay Hill, the Minister of Justice said he does have an alternative plan but he would not divulge any information on it unless the agreement has been finalized.
While the local Inspectorate of health has given a bad report on the Pointe Blanche Prison especially the kitchen, it should be noted that two researchers are on the island compiling a report on the detention centers on St. Maarten.
The two researchers Vegter and Pesselse also work for the European Committee for Prevention and Torture (CPT) which compiles annual reports on prisons and other detention facilities. Last year, St. Maarten obtained a very bad report which was handed to the Governor of St. Maarten. One of the greatest fears is that is that if the CPT committee places St. Maarten as a country that violates human rights and prisoners especially since their prisons are not up to date, then the country will be considered as inhumane and degrading to prisoners. Being on such a list will have dire consequences to the country that thrives on tourism.