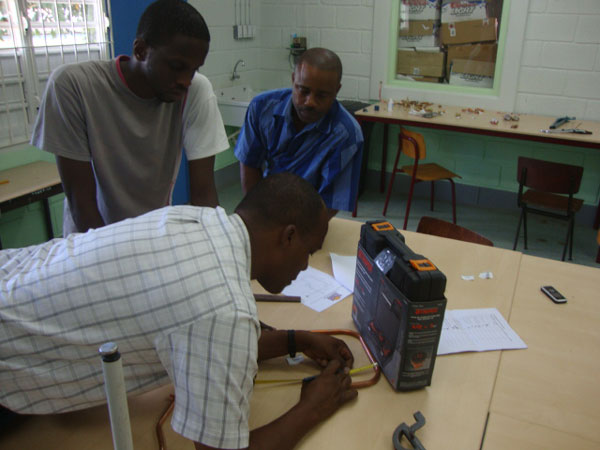 Great Bay:--- The last teacher retraining session for the subject, Instalectro, took place in the week of April 1st at the Milton Peters College, (MPC).
The Division for Educational Research Policy and Innovations (DERPI) of the Ministry of Education, Culture, Sports and Youth Affairs, had kicked off the 2010-2011 school year with a teacher retraining project on August 16th. All the PSVE schools on the island, i.e. MPC, The Sundial School, The St. Maarten Vocational Training School and St. Maarten Academy PSVE, participated in this project.

A series of trainings was provided throughout the school year. DERPI worked closely with the Netherlands Antilles Center for School Improvement (NAC-SI) in order to update the skills of the teachers in the following areas: PatLink, Hospitality, Cultureel Artistieke Vormgeving (CAV), Math, Instalectro and Technical Science.

More than Naf 90.000, - has been invested in this retraining program which was financed by USONA (Dutch development funds).

Minister of Education, Rhoda Arrindell, has expressed, through DERPI, best wishes to all those twho participated in the training. "Success with the application of your new skills and I hope that the school would continue with such activities in the spirit of innovations," Minister Rhoda Arrindell said.

DERPI would also like to thank the USONA for making these trainings possible, NAC-SI for their cooperation, all the great facilitators, the management and school board of all PSVE schools for their assistance and all the teachers for their continued drive and commitment.