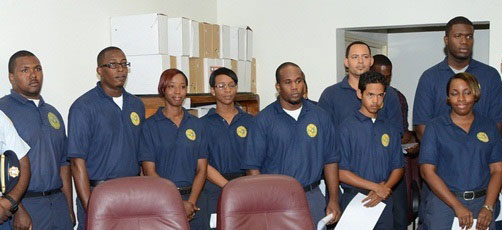 Philipsburg:--- On January 4th, 2012 the police department held a swearing-in ceremony at the office of Justice Minister Roland Duncan.
A total of 13 cadets from the BPO (Basis Politie Opleiding) who have finalized another part of the module of their police training have taken the oath in order for them to have the authority to make arrests and to be able to write out citations.
Four other officers from the Netherlands were also sworn-in as part of reinforcement to the police department. This is in regard with the agreement St. Maarten has with the Netherlands that twenty officers will be reinforcing the Police Force of St. Maarten. Already, there are nine of the twenty officers on St. Maarten.
The officers took their oath in the presence of the Minister of Justice Roland Duncan.