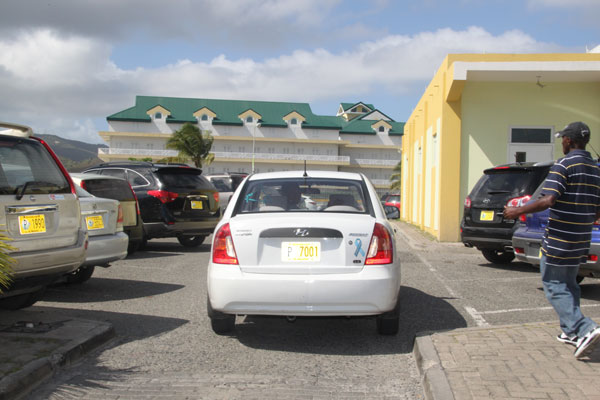 Philipsburg:--- Several workers of Simpson Bay Resort Management Company (SBRMC) along with their union representative from the Workers Institute for Organized Labour (WIFOL) Theophillus Thompson went to the SBRMC Human Resources Department on Thursday to receive their pay checks since the Court of First Instance ruled on April 2nd, 2012 that the SBRMC must comply with the Collective Labour Agreement that is currently existing and pay its workers. Thompson said that since Thursday was pay day he accompanied his members to make sure the employer abides by the court's decision.
An employee at the SBRMC Human Resources Department informed the WIFOL President and its members that she did not have any paychecks for them and she did not know if and when they will be paid by SBRMC.
The SBRMC workers who have not received any salaries since last year then went to Parliament House to confront Member of Parliament Jules James who is also the General Manager of SBRMC.
When the workers arrived outside of Parliament the security guard informed them that he did not know if they could go inside Parliament House while a public meeting of the Central Committee was taking place. Moments later, Member of Parliament William Marlin came downstairs and met the workers and informed them that the meeting was a public meeting and they could attend the meeting if they remained peaceful.
The workers then went upstairs and stood in the lobby as they waited for the General Manager of SBRMC Jules James to approach them and inform them when they were going to be paid. While Member of Parliament Louis Laviest approached the workers, Member of Parliament Jules James remained in his seat for about forty five minutes before he left the Parliament house, rushed to the Government Administration Building parking lot, and drove away at high speed leaving the angry SBRMC workers. Thompson and the workers then tried to meet with the Minister of Labour Cornelius de Weever at the Government Administration Building but they were informed that Minister de Weever was not in office at the time.
It should be noted that during Member of Parliament Jules James' escape, he ran to his vehicle which was parked at the Government Administration parking lot and reversed his vehicle through the one way entrance as he sped out. MP James almost ran over an SMN News reporter who was at the entrance of the parking lot taking photos of the workers and the Member of Parliament as he was escaping from the SBRMC employees.
The distraught workers told SMN News that they had no intention to cause trouble or to commit any violent act against the SBRMC General Manager. The workers said they need their General Manger to tell them exactly when he will respect the decision of the court. They further explained that Member of Parliament Jules James is a lawmaker and he should lead by example. The workers said that it's been two years they are struggling with their job and employer. One of the workers said they are losing patience with the SBRMC. The employee said they need to pay their bills and they also have children to feed. He made clear that Member of Parliament Jules James has two salaries while he is a business owner that is collecting monies daily. "I want to know what type of Government we have, is this how government treats working and poorer people. This is lawlessness in government and we need to protest against it."
President of the WIFOL Theophillus Thompson said that he has informed the WIFOL attorneys Maarten Le Poole and Wim van Sambeek at HBN Law of what happened on Thursday. Thompson further explained that the SBRMC did not file an appeal instead they filed a request to the court to block the implementation of the recent court decision. Thompson said that case will be heard on Friday April 13th, 2012.
Click here to view more photos of SBRMC workers seeking their salaries on Thursday.