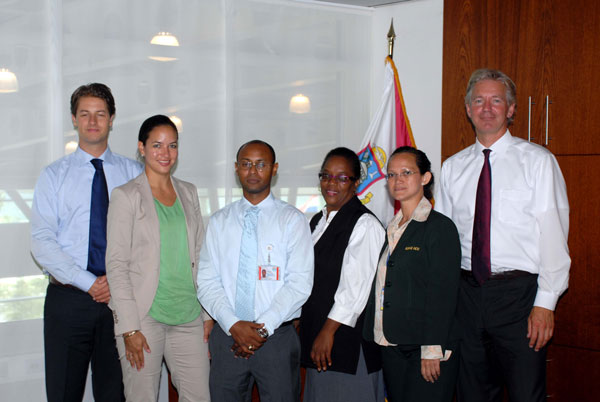 Consultant InterVISTAS Proposes 'Win-Win-Win' Solution to Airport Stakeholders.
SIMPSON BAY:--- The results and recommendations of a Non-Aeronautical Revenue Enhancement study commissioned by PJIAE and conducted earlier this year by the InterVISTAS Consulting Group was presented to the airport concessionaires during the 3rd Quarter Facilitation Meeting held here Tuesday.
Presenting the findings of the study as part of PJIAE's continuous efforts at transparency, and in its bid to build partnerships rather than "tenant-landlord relationships," InterVISTAS Commercial Vice President Johan Schölvinck said the study revealed, among other things, that revenues from non-aeronautical sources constitute about 19% of PJIAE's gross income, which is way below the industry standard for an airport of its size.
The study indicated, in this regard, that there is room for improvement in terms of the performance of concessionaires, while it also highlighted the fact that there is significant unused space in the airside Food and Beverage and Retail area.
The InterVISTAS study similarly found that there was passenger confusion made evident by the fact that each of the three current liquor and tobacco outlets at the airport offers identical products at three different prices.
In airport retail, Schölvinck explained, passengers would get confused as a result of the price differences and walk away from making a purchase, unlike in downtown retail (Philipsburg), where consumers would return, and possibly negotiate the price difference.
The study further noted a lack of "sense of place" at the airport. "There is a general impression that there is a lack of "SXM look and feel," the InterVISTAS study concluded. Schölvinck added: "A huge opportunity exists here to improve in this aspect. You want people to remember 'SXM' and that is currently not reflected in the airside retail area."
SXM is the international designator code for Princess Juliana International Airport (PJIA).
With regards to the unused space, the study stressed the need to utilize these areas more effectively. To further illustrate how this could be done, InterVISTAS used the analogy of a "Pinball machine effect," whereby you keep the client's focus and attention within the Food & Beverage and Retail area.
Of particular interest to the concessionaires was the conclusion by InterVISTAS that PJIAE's concession plan and retail strategy need to be reviewed. This is mainly because non-aeronautical revenues account for some 19% of total revenues in contrast to over 30%, which is the norm regionally and internationally for an airport the size of PJIA.
According to the study, "overall, PJIA non-airline revenues averaged 25.17 NAF ($13.98) per departing passenger in 2011, excluding transfer and fee-exempt, non-revenue travelers. Of this, 23 Retail shops and 11 Food & Beverage outlets accounted for 29% of the total non-airline revenue or $3.96 per passenger. The retail stores include liquor/tobacco, jewelry, beauty products, fashion, souvenirs & gifts, a hair dresser and magazine/newspaper outlets. In 2011 the PJIA rental revenue from these retail outlets amounted to 8.7% of their gross sales while the concession fee was 7.4% of sales."
"The Food & Beverage outlets have a higher rental fee per gross sales than the retail stores at 11.7% but a lower concession fee of 5.2%. The average spent by a departing PJIA passenger on food and beverage was $7.62 of which PJIA receives $1.19 or about 15%."
To improve the situation, the InterVISTAS study identified the following objectives:
Increase sales volume. This is a win-win-win situation. When passengers find what they want and spend, the concessionaire's sales increase, which in turn will result in higher concession revenues for the airport. In this "triple win" scenario, everybody benefits.
Create a tempting airside lounge reflective of a SXM sense of place (i.e. by effective use of culture, music, flavors, etc.).
Improve the Food & Beverage and Retail space, particularly in its mix and lay-out.
Ensure less passenger confusion regarding product offering and pricing.
Upgrade airside Food & Beverage and Retail area with existing and/or new concessionaires
The concessionaires generally received the presentation well. Although some expressed concerns about the way forward, there was, however, much excitement about the future expansion plans and better retail possibilities.
"In these times when sales are down and the economy is in a slump, it is highly appreciated that PJIA recognizes the need and is willing to take on the necessary steps towards improvements that would result in a win-win-win situation for all," one of the concessionaires said.
PJIAE Managing Director Regina LaBega stressed the need for PJIA to maintain its competitive edge by upgrading. "If we do nothing then there is nothing stopping our competitors in the region from becoming the new hub airport," she said, adding: "it is the objective of PJIAE to increase traffic and these proposed changes go hand in hand with the expectation of an increase in arrivals."
The study actually forecasts that "passenger traffic, using the main terminal building, but not including FBO traffic" will range between approximately 1.8 million and 2 million by 2020.