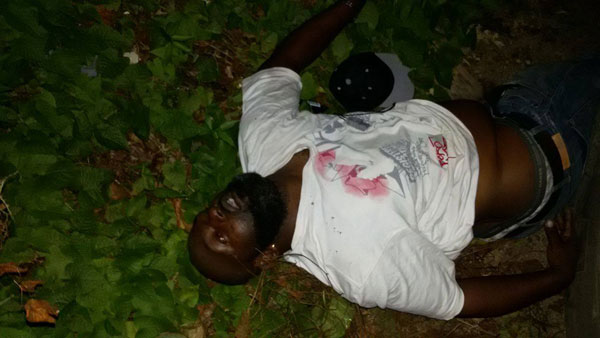 Dutch Quarter:--- A man identified as "Iceman" a known truck driver allegedly fired shots at his wife home in Dutch Quarter injuring a female relative of his wife. The victim was shot in the leg and was transported to the St. Maarten Medical Center for treatment.
Shortly after the suspect was found dead in South Reward. Police Spokesman Ricardo Henson confirmed both incidents. In an invited comment Prosecutor Gonda van der Wulp said that the dead man indeed fired shots at the home of his wife but she was not injured. Van der Wulp said that the man was found dead on the side of the road and so far the police doctor determined that the man died of natural causes. However, the prosecution decided to confiscate the body for further testing as they continue to investigate the case.
Lady shot in Dutch Quarter/ suspect found dead.
The Detective Department is presently investigating a shooting which took place on Thursday January 14th at approximately 07.55 p.m. in Christiansted drive in Dutch Quarter. The caller stated that the male suspect fired shots hitting a female in one of her legs. The suspect then drove off in a gold colored S.U.V. Police patrols and Detectives were immediately sent to the scene to investigate what had taken place. The victim was treated on the scene by paramedics and then transported to the Sint Maarten medical center for further treatment.
At approximately 08.30 p.m. while the investigators were still on the scene in Dutch Quarter the Emergency Dispatch received a call informing them that the suspect in the shooting was laying on the side of the street on Carrot road in South Reward and was not showing any signs of life. Immediately police patrols, detectives and crime scene investigators were sent to the scene. The entire area was closed off for the Forensic Department to collect evidence and witnesses were questioned by the detectives.
Dr. Mercuur arrived on the scene and pronounced the death of the victim but could not determine the cause of death at the moment. The body of the suspect was confiscated for further investigation. The S.U.V. in which the suspect left the scene after the shooting was later found in the vicinity of Milton Peters College.
The investigation is in the preliminary stages and a soon as more details become available the media will be informed.
KPSM Police Report