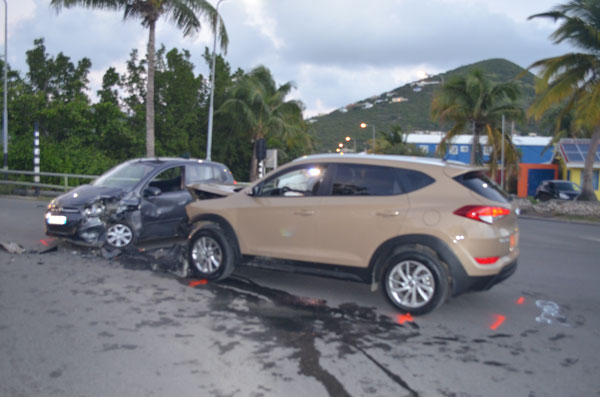 PHILIPSBURG:---- The Police traffic Department on Thursday January 21st 2016 released the final results of the investigation of the serious traffic accident which took place on Christmas morning December 25th 2015. The accident took place at approximately 05.50 a.m. at the traffic lights on the crossing of Walter Nisbeth road - Bush road - A. Th. Illidge road and Long Wall road. As a result of this accident a female passenger suffered serious injuries to her hip and is at present still being treated for the injuries she sustained.
The accident was between a Hyundai I-10 with license plate 4274-AAB and a Hyundai Tucson with license plate P-7083. After an in-depth investigation done by the police traffic department and after studying the case which was caught on video it is clear to see, that both vehicles involved approached the intersection at the same time. The 4272-AAB was driving on the Illidge road while the P-7083 was driving on the Long Wall road. The traffic lights at the intersection were operational at the time of the collision.
On the video which was studied its clear to see that the 4274-AAB drove at high speed onto the intersection while the traffic light was showing "red" from the direction it was coming, at the same time the P-7083 was making a left turn onto the Bush road (Prins Bernard Bridge) while the light was on "green" coming from the Long Wall road. As a result hereof both vehicles collided causing extensive damage to the left front corner of each vehicle and the passenger of the 4274-AAB suffering injuries.
KPSM Police Report.