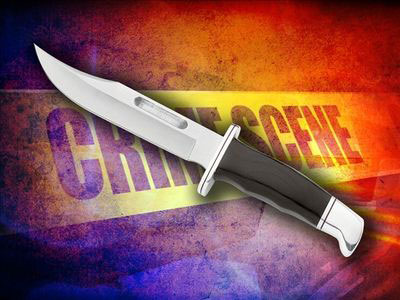 suspect assisting Gendarmes with investigation.
PHILIPSBURG:--- A woman went berserk on Saturday afternoon in the vicinity of French Quarter Post Office when she stabbed a man identified as Albert Cocks aka Albero/Smuth who was bleeding profusely from the wounds he received. According bystanders the suspect was a Rasta looking woman of Haitian decent who stabbed Cocks who was in front of the restaurant parking lot. Cocks is well known to almost everyone in French Quarter as he cleans fish under the tree for a living and also now working as security at Suki Supermarket. SMN News understands the woman is of unsound mind as only recently she was evicted from her home in the projects in French Quarter and her two children were taken away from her.
Captain of the Gendarmerie Emmanuel Maignon confirmed the stabbing incident. The second in command at the Gendermerie said the victim was stabbed on his hand and in his stomach while he was also hit in the head. Maignon said the victim was taken to the Louis Constant Fleming Hospital for treatment while the suspect who remained on the scene until the Gendarmes arrived there is assisting with the ongoing investigation. The Gendarmes also managed to recover the knife the woman used to inflict the injuries on Cocks.