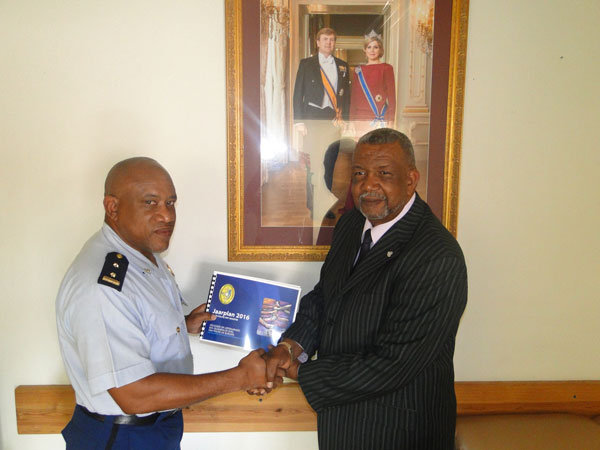 PHILIPSBURG:--- During the first meeting, after the appointment of the Honorable Minister of Justice Edson G. Kirindongo, Chief of Police Carl John discussed the Police Annual Plan for 2016. In the Annual Plan 2016 ("Safety and Livability" a joint effort by Police and Community) it is extensively outlined what the plans are and how they will be executed. The document also clearly states that due to the budgetary constraints in government spending for 2016, it has become an extreme challenge for the Korps Politie Sint Maarten to continue to grow as a qualified and professional organization, and doing so with limited equipment and manpower. Nevertheless the KPSM will creatively and innovatively continue to search for possibilities in improving safety on Sint Maarten.
The focus mainly lays on working "hand in hand" with all security partners, the community, the private sector and other police (supporting) organizations outside of country Sint Maarten. These regional and inter insular working cooperation are of great importance for the exchange of information and knowledge and mainly concerning what is going on in this region.
The minister promised to give his full support in making the goals that mentioned in this annual plan a reality.