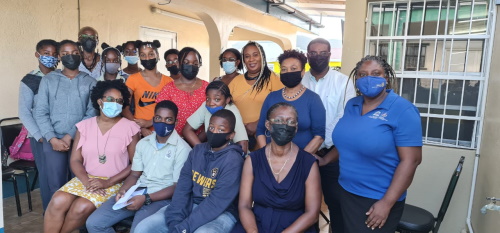 PHILIPSBURG:--- The Philipsburg Jubilee Library and the Rotary Club of St. Martin Sunrise have re-launched the signature project 'Readers are Leaders', after four years. This program is spearheaded by Rotarian Marcellia Henry and Maryland Powell, a librarian of the Philipsburg Jubilee Library. The mission of Readers are Leaders is "To inspire and motivate teenagers to read in order to broaden their horizons". The relaunch was held at the library on September 29, 2021, and will come to an end on April 2, 2022. Ms. Glenderlin Holiday, Director of the Philipsburg Jubilee Library and the Rotary Sunrise's President Damali Bryson, spoke at the event to the eager participating students and teachers who were present.
Rotarian Henry and Ms. Powell presented the criteria for those interested in participating in the Readers Are Leaders program, they are as follows:
• High School students must read a minimum of seven (7) books by April 2, 2022
• At least two of the books have to be non-fiction books about Leaders.
• The English Language books have to be chosen from the Readers are Leaders' collection, or from the teenagers and adult section of the Library.
• Participants have to answer the required questions about each book they read. They are to send the answers to the Information desk at the library, by the last Friday of each month.
• The first participants who finish five (5) books will receive a prize.
• The participants who earned the most points at the end of the campaign and have participated in extra reading activities will receive a special prize.
Students can register for the program at their school, or at the Philipsburg Jubilee Library.
Success to all participants and hope the prize could be won.