~Jens van der Lubbe Managing Director as of May 1~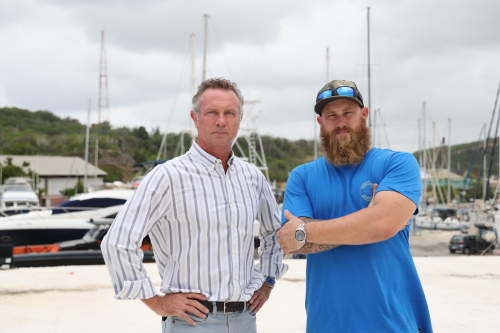 WILLEMSTAD - With the recent takeover of Curaçao Marine at the Pletterijweg on Parera by the local entrepreneurs Justus and Jens van der Lubbe, the continuity of this company for the longer term is in safe hands. As the new Managing Director, Jens van der Lubbe sees good opportunities to expand the activities of this company and to further increase the quality of service. For the economy of Curaçao, this renewed continuation is a solid asset.
While father Justus continues with his insurance company Inter-Assure, son Jens is the new co-owner with Gareth Weber as yard manager. Weber already acted as such under the previous owner Harry Faydherbe, who chose to hand over the company to a younger generation. As the largest shipyard of its kind in Curaçao, and thanks to an excellent reputation at home and abroad, Curaçao Marine has the potential to attract an increasing share of the regional market. That is what Jens van der Lubbe is going for.
State of service
Jens, born on St. Maarten and raised on Curaçao, has felt strongly attracted to the sea and consequently to boats from an early age. With his diplomas in International business management and Marketing and his multilingualism, he started in this branch at an early age. Some years ago he set up his own company Marine Zone for boat maintenance and sales of boat products. That was a perfect stepping stone to Curaçao Marine, a company with an excellent track record that has been around for two decades. He is at the helm since May 1 with a staff of 18 people, especially many technically highly skilled workers. In addition, depending on the needs of customers, the yard regularly provides side orders to more specialized companies and small independents on the island.
Versatile
From the outside, the company is known for the many sailing and motor yachts that are positioned in a wide circle. Because of its favorable location south of the usual hurricane route, Curaçao is ideally suited for the safe storage of expensive yachts. But if you zoom in on what's involved, you realize how intensive the work of Curaçao Marine is. Large-scale maintenance is performed on ships, both on those that are kept there and on those that come to the shipyard for the service. This involves, for example, thorough cleaning, osmosis treatment, spraying in a closed cabin, maintenance and repair of engines, fiberglass repairs, work on electrical or communication equipment, thorough inspection of masts and hulls, as well as related work for maintenance, repair or renewal. The yard works with an experienced sailmaker for custom repairs and canvas fabrication. To demonstrate the extent of customer service, Curaçao Marine can also provide laundry services, arrange for a rental car and offer a shuttle service to and from the supermarket.
Infrastructure
In a part of the much larger Schottegat near Parera, Curaçao Marine has a site of 25,000 square meters. There is room for a maximum of 240 vessels on dry land in addition to the more than 40 that can moor at the piers, where there is electricity of 110 and 220 Volts. Through the private slipway, vessels can be lifted out of the water on a trailer with a capacity of up to 60 tons. There is also a 40 ton trailer with soft sides for the safest possible movement of yachts. Of course, there are additional facilities such as cranes with great potential. A sine qua non condition for ship owners is that all vessels are covered by a valid insurance policy.
To be able to provide all these services properly, Curaçao Marine can rely on the good relationship built up over the years with the immigration authorities and customs to ensure that everything is done according to local laws and regulations. Curaçao Marine can also provide assistance with all the prescribed forms and procedures.
Foreign Exchange
Jens van der Lubbe knows the ins and outs of this industry down to the last detail. He also knows where the challenges lie and he likes to take them on. He wants Curaçao Marine to become the market leader in the Caribbean region in the field of maintenance and care of ships with an eye for the living and marine environment. With the improvements he already has in mind and the additional investments involved in the near future, that offers the prospect of even more foreign exchange for the island. Although local customers are also knocking on the door, foreigners make up the vast majority of the clientele. In this way, Curaçao Marine - and the island of Curaçao in its wake - is gradually becoming a household name in this select but affluent global segment consisting of sailing and motor yacht owners.