Building Back Better with Good Governance is key for progress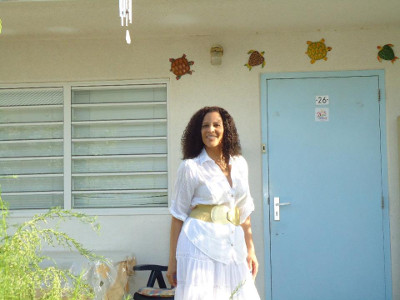 Sint Maarten has been hit by the devastating hurricane Irma and still we can see around us lots of damages to houses, commercial buildings and our infrastructure. But we have resilience people, who know the dynamics of fighting back to get there, where we want to be: A recovered Sint Maarten, not only physically but also mentally. The Recovery plan with its principle of 'Building Back Better', tackles great part of the physical issues, yet we need to deal with much more, if we want a real recovered (meaning sustainable development for) Sint Maarten, as we are heading to the future.
I, Lucrecia Morales, better known as Loekie Morales, believe that only in dialogue with the people and taking into account their needs, we can create sustainable solutions, that make sense. I believe that Building Back Better (& Smarter) for Sint Maarten & Empowering of the Youth & Women via skills to start their own Small and Medium Enterprises are important for a solid and sustainable basis for the development of our country as a whole. Right now, it's about Housing & Jobs first!
I originate from a single mother, poor family and have gotten the example of my mother and grandmother of working hard with determination and perseverance to lift oneself out of poverty. My grandmother was a huge motor for our family, with her positive thinking norms and values. 'If you really believe in something, go for it in a positive, honest way and with determination and you will get there!,' my dear Wela used to say. Today I have a Doctorandus Degree in Environmental Geography and am an author, who have published 9 juvenile books. I am president of a foundation (Beyond Kultura Events Foundation), which strengthen the youth with enhancing their reading and writing skills, teaching them with projects like the Caribbean Living Statues, that with using their creativity and believe in oneself, one can create a nice world for oneself and for others.
So, by my own efforts, I have earned my position. I don't have family ties on Sint Maarten and have no interest to put families or friends in good positions. I have chosen to give my positive energy to the best interest of the people of SXM. TENGO COMPROMICIO CON LA COMMUNIDAD!
I have lead environment and spatial planning projects in Holland and worked since 2000 for Government of Sint Maarten as a program manager for Environment, Monument Care, and Social Development. With my multilingual skills (Papiamentu, English, Dutch and Spanish) and being a bridge builder, a team player, committed, persuasive and motivational, I will strengthen government from another angle.
Why I have entered political arena
I was always involved in the political arena before I came to SXM in 2000. I was a member of the Labour Party and later of Pro Arnhem. In 2015 I established Beyond Sint Maarten Development Party, based on Social Democratic principles and joint with HOPE with the same principles to contest the parliamentary elections on Sint Maarten in 2016. Since postulation day, I am postulated myself to be chosen, on the National Alliance list, # 15 for the 26th of February parliamentary election. I am thankful to the former leader, who has given me a wider platform to reach out to the people of Sint Maarten. I've joint the National Alliance mostly because of its strong Social Democratic ideology. Next to that, I think that with a wider platform, I will be better able to reach more people to work on Good Governance, Empowerment of the Youth and Women, Environmental Sustainability and Clean Energy. But, first things first: working on SMART Housing and Jobs is the most important for the coming 4 years, after hurricane Irma hits Sint Maarten. We need more independent women in government to make it more balanced.
Lucrecia (Loekie) Morales