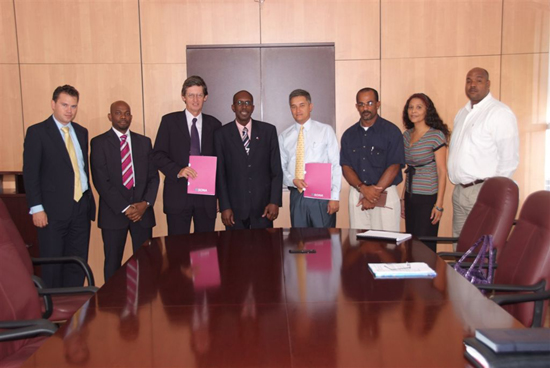 Philipsburg- On Thursday the Island Territory of St. Maarten, represented by Governor Franklyn Richards, signed two agreements with USONA, a Dutch Funding Agency which manages the development aid, represented by Frans Versteeg.

Two contracts were signed between the two entities: One for a review and update of a previous sewage project assessment to determine what adjustments have to be taken; the other, a conglomerate project of 6 socio-economic initiatives.

Versteeg said that he is glad to start these two projects, also since one project was initiated many years ago and is important for the St. Maarten.

Louis Brown, Director of Programs & Projects (DPP), explained about the first project, which was a sewage project initiated about 10 years ago, and now needs to be an assessment about any adjustments. The second contract encompasses six project proposals, namely:

1) A Macro-economic model. Measuring of economic impacts.
2) A primary school in Belvedere.
3) A multi-disciplinary control unit.
4) A University of St. Maarten regional program.
5) A competition authority for St. Maarten.
6) Statistical system for St. Maarten.