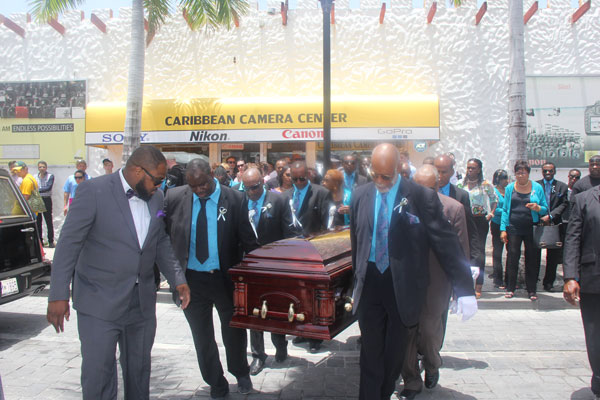 PHILIPSBURG:--- The community of St. Maarten including representatives from the French side and neighboring Anguilla along with elected officials from Dutch St. Maarten paid their last respects to St. Maarten Cultural Icon Neville Chester York (50) who passed away suddenly a week ago and was laid to rest on Tuesday. At the viewing and funeral services, Deputy Prime Minister Rafael Boasman sat beside his colleague Minister Silveria Jacobs, while Minister's Gibson, Emmanuel, and Lee all paid their respects shortly after the body arrived at the Methodist Church. Among them were some Members of Parliament.
Several Caribbean nations hailing as far as Guyana and Suriname sent their tributes to the family of the late Neville York, all of which was read out at the Philipsburg Methodist Church while the viewing took place. All of the representatives from the region described the late Neville York as being someone that was always ready to assist them, offered advice and did everything humanly possible to highlight the Caribbean Culture. They said the late Neville York was full of patience and had a huge passion for culture that he would go out of his way to assist and give advice to anyone who needed it and while St. Maarten has lost a man that had wealth of knowledge on the country's history and culture, the region would also miss him dearly.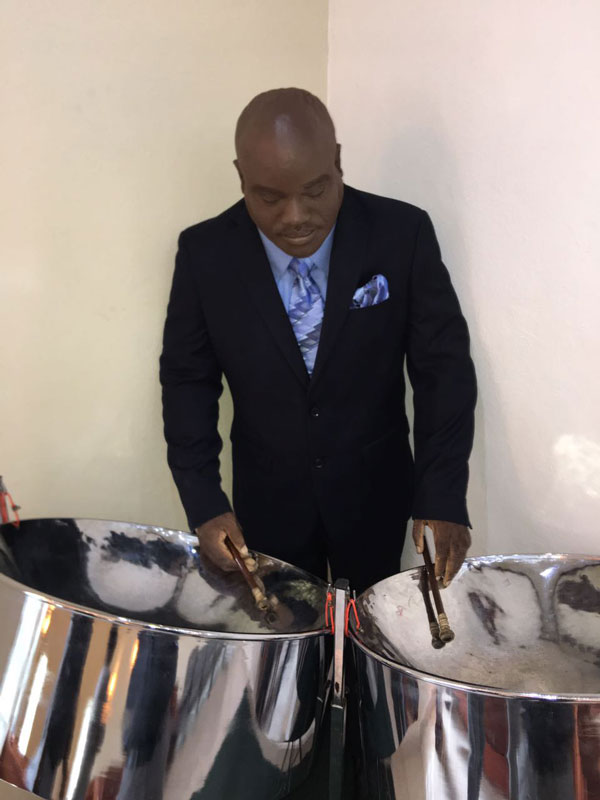 The late Neville York who headed the Culture Department also taught music and wrote several songs and poems. At the home going ceremony, several of his students paid tribute in song.
The home going ceremony started Monday night at the Emerald Funeral Home where family and friends gathered for the last wake and they got the unexpected when the undertakers at Emerald prepared the body of the late Neville York and had him on display playing his favorite steelpan.
The staff of the department of Education, Youth and Culture dressed in their Cultural wear to honor York while the large York family who loses three family members within a week wore blue sweaters to identify themselves as members of the family. Among them is the Minister of Plenipotentiary Henrietta Doran York.
Minister Jacobs' Tribute to Cultural Icon Neville York
Tribute To Neville York – Cultural Icon, Accomplished Musician, Scholar, Policy developer, Heritage Specialist, Businessman, Teacher, St. Maarten Legend
"Sweet Salt is about Neville York sharing the creative memory of the pan basin with us, thereby uniting us through the pan with the musical experiences surfacing from the depths of the Caribbean Pan Basin" Camille Baly - Local Historian and former head of the Dept of Culture and Youth.
Neville started in 1995 as a Cultural worker in the Dept of Culture and Youth under the leadership of Mr. Camille Baly, who served as his mentor for many years; sharing his humility, grace and soft-spoken authority with Neville.
An avid student and a great example of a life-long learner, his enthusiasm for learning and sharing his knowledge and expertise were renowned within the ministry, government, the many local and international organizations he contributed to.
Having grown up in a musical family, known for its pioneer role in the introduction of pan to St. Maarten, Neville was destined to be an accomplished musician. He followed his dream after high school, where he'd already received regional recognition with diplomas earned in Guadeloupe, to pursue his music degrees among others. Last I checked he held Bachelors and Masters in Music, Bachelor in Spanish and Business Administration, and was working on a second Masters in Business; he never stopped learning.
Much can be learned from his voracious appetite to know more and continue to grow personally as well as influence the growth and development of culture here at home, in the Caribbean, and around the world.
In 1999 after the reorganization of the department, Neville became the head of the Social and Cultural Development Department and from 2010 – present due to Constitutional change, he became the head of the Culture Department under the MinECYS.
His research into areas pertaining to heritage preservation knew no bounds. His heritage family around the world highlighted a few areas in which Neville excelled: in character, personality and passion for Culture, Heritage preservation locally and regionally and the promotion of the Arts.
"A true visionary of the Caribbean who sought to build capacity by bringing the region together through tangible and intangible heritage, Neville became the unifying force around the proposed serial nomination for Eastern Caribbean fortifications. He was a member of the International Council of Monuments and Sites (ICOMOS) International Scientific Committee on Fortifications and Military Heritage (ICOFORT). Neville was a champion who brought awareness to Caribbean heritage internationally and in the context of Small Island Developing States (SIDS). An acclaimed musician locally and globally, Mr. York was the St Maarten Head of the Department of Culture in the St. Maarten Ministry of Education, Culture, Sports and Youth Affairs.
We give God thanks for his life and legacy and wish his wife, family, loved ones, and co-workers much comfort and our condolences."
Patricia Green -head of CARIBBEAN SCHOOL OF ARCHITECTURE - University of Technology, Jamaica
"Calm demeanor and gentle smile, always willing to assist professionally and personally...." - Ian Constantine - Engineering & Architectural Preservation, Saint Lucia
"We met only once in 2013 in Antigua and Barbuda for the World Heritage workshop. Since then, we have communicated over e-mails, and spoken on the phone so many times. The last call from him was 2 months ago, informing me about the latest news on the proposed serial nomination for the Eastern Caribbean fortifications and his intention to re-activate the network. It was always a pleasure to speak with him, he was dedicated, energetic and passionate with full of ideas. My deepest condolences to his family and friends. May his soul rest in peace" - Sachiko Haraguchi (Ms)Coordinator, World Heritage Programme for SIDS
UNESCO World Heritage Centre, Paris (France)
"I met him twice and besides his professional skills and knowledge of the region, I remember his enthusiasm and everlasting smile..." –
Alessandro Balsamo - Nominations and Tentative Lists Manager
World Heritage Centre, UNESCO, Paris, France
The accolades about this legend from around the world continue with words such as:
"Easygoing, Talented, humble, gentle spirited, passionate about heritage, his music and the development of the region, kind, generous, direct, driven, fired up, concerned, knowledgeable, tireless and humble, absolutely focused on improving cultural recognition and heritage conservation in his island and dreaming on how to expand that spirit all over the Caribbean – a splendid human being!!!"
All these international voices echo the sentiments of his small staff, colleagues in management, the entire Ministry of ECYS and by now the general population of Sweet S'maartin.
From our initial meeting in 2012 when I first held this post, I sat in awe at the extent of knowledge, research, passion and dedication Neville displayed for Cultural Heritage and the arts, including his vision for its future development. Neville would become as excited as a kid in a candy store if he found someone who shared his vision and passion and was quick to pull out a document related to whichever goal I mentioned as wanting to move culture forward. It was as if he had a treasure trove of research just waiting for the support and funds to push it to the forefront.
Patient, kind and strategic are also words I use to describe this incredible man, whose reach it appears has been boundless.
Neville always sought to give credit to all who supported him and his ideas, and worked hard to bring them to fruition by all means possible, whether with local funding or international funding via his affiliates in the UNESCO Heritage sphere.
Some of his achievements within the Ministry over the past few years:
• Cultural policy framework
• Dept Cultural Policy Plan 2015-2019 also called the Vision 2020 – Opening windows and building bridges on the Principles of Human Dignity under which the following achievements were being realized
• Decade of revitalization of our Natural and Cultural heritage 2013
• Lead the creation of the Cultural Calendar 2013 – research on Heroes and heroines of St. Maarten – to be republished as a book
• Guided the process toward the preservation of the island's forts, Salt Factory, restoration of the Methodist Church, Brick Building, Passagrahan Hotel
• Organized the Caribbean Capacity Building workshops in 2014-2016
• The Caribbean Small island development states meeting held in 2014 which began the process of the world heritage nomination
• Neville also spearheaded the Coastal fortification which enabled St. Maarten along with other Caribbean islands to begin the process of getting coastal forts on the World Heritage list.
• Neville was also in the process of establishing a talent development scholarship that enabled the Youth of St. Maarten to further develop their skills in their chosen art form.
• St. Maarten becoming cco-signedto the Unesco Intangible heritage convention
• Was currently busy with the protection Underwater Cultural Heritage
• Established the Caribbean Pitch it Foundation to assist government with the execution of its many cultural events
• Spearheaded the Steel Pan in schools program which began at the Learning Unlimited and MAC with Caribbean Pitch it and funds received from the Fonds voor Cultuurpartitiepatie in the Netherlands
• Participated in the planning of various events and activities over the part fifteen years for events such as the St. Maarten Day celebrations
• Spearheaded the Establishing of Emancipation day and Constitution Day as National holidays
• He was a pioneer when it came to the protection of the island's heritage. Working on various laws and policies including laws and policies on archeology, the arts, and cultural expressions
• He was currently working with Daniella Jeffry on a book concerning Cultural Identity, a spin-off of the symposium with the same topic.
• Labeling of monuments should be finalized in 2017
Neville's legacy will live on through his attitude, his research, his writings, his music, his teaching of children and adults, the lives he's touched.
His spirit will live on with every ping of the pan, every monument restored, labeled and recorded, every spoken and written word archived, every documentary filmed, every song composed, written, recorded and performed, every dance choreographed danced and videographed, every piece of art conceived, created, displayed and sold, every art facility restored, expanded and built.
The sweet salt we reaped, burned our fingers and blinded our eyes, but the yield produced survival!! As we reminisce on the sweet memories and 'suck salt' at your early demise, we pray your spirit guides us to realize your goals and dreams for S'Maatin and the Caribbean. Together we can!
Our prayers for strength and endurance of the Neville spirit in his family, friends near and abroad and to Sxm and her neighbors as we allow him to move on. We pray he knows how dearly we hold him, how high he is esteemed, and how long his name will ring on this earth!!!
Sometimes I wonder, did we stifle the artist by forcing him to write policy, make a dollar out of fifty cents, or was he just that complete; able to bounce between the art world and work of cultural and heritage preservation? Or did his musical forays with his students and in his performances keep him charged up to be able to make the global difference in his day job?
We will never be certain, but what we do know is there was a man, a great man, who lived with a passion for music, culture, heritage and the arts in general who has made a great impact on our lives. Let's take the lesson of his life along with us on a daily basis, and smile, work hard, play hard, encourage others along the way and make a difference!!! He had passed the baton, may we all have the courage to take it and Run!
Silveria Jacobs
Minister of Education, Culture, Youth and Sport 2017
Click here to view photos of the Home Going Ceremony of the late Neville York