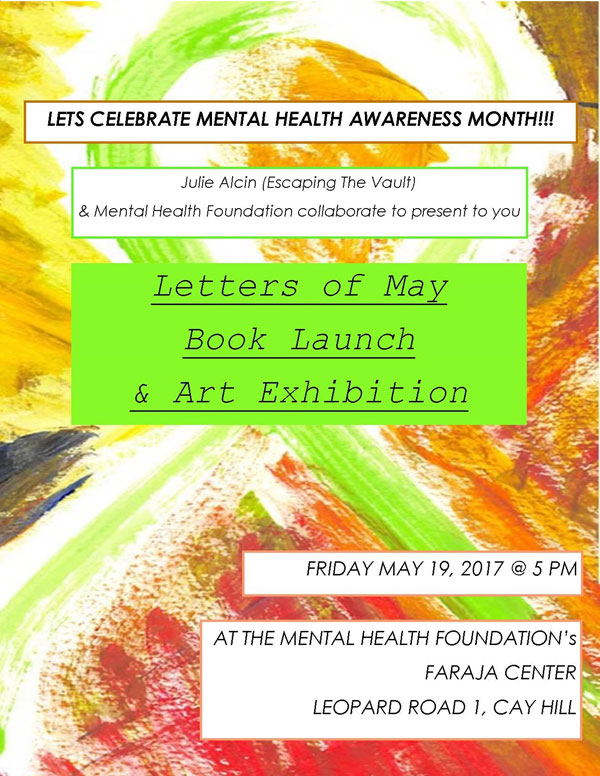 PHILIPSBURG:--- On Friday, May 19th, 2017, Escaping The Vault, together with the Mental Health Foundation are collaborating to present to you the "Letters of May" Book Launch and Art Exhibition at the Mental Health Foundation's Faraja Center on Leopard road #1. The launch and exhibition will be held on Friday, May 19th from 5 pm to 7 pm.
Julie Alcin of Escaping the Vault has been instrumental in trying to raise awareness for mental health and to do this she came up with a project called "Letters of May". Letters of May will be publishing artwork (writing, letters, poets, drawings and paintings) to allow persons that deal with or have dealt with mental health to tell their story in a way that spreads hope, educates, and help put an end to stigma. This project has the following goals; raising awareness for mental health, giving hope to those that struggle with mental health, showing how it is to live with mental health, helping to put an end to the stigma on mental health and to educate others on mental health.
The deadline for submitting artworks was mid-April, and the event will be used for the launch of the "Letters of May" book, whereby all artworks will be showcased to the public, as well as to its creators.
The public and mental health stakeholders and relations are invited to attend the art exhibition on Friday, May 19th, 2017 at 5 PM to see the beautiful artworks displayed, at the Mental Health Foundation's Faraja Center.
MHF is the leading secondary Mental Health care provider on the Dutch side of St. Maarten and has been operational since 2006. In addition to providing support and treatment for mental health issues brought on by the everyday challenges of life, MHF is currently the only mental health facility in Sint Maarten that provides 24-hour inpatient care to individuals suffering from the most severe forms of mental illness.
The Mental Health Foundation and Julie Alcin look forward to the launching party of the "Letters of May" Book & Art Exhibition.