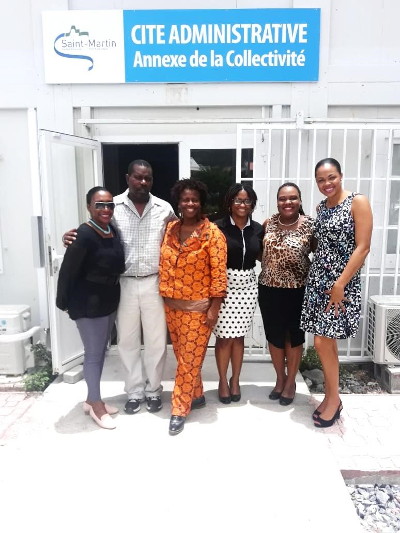 MARIGOT:--- The Department of Culture within the Ministry of Education, Culture, Youth and Sport (MECYS) on Sint Maarten and the Department of Culture within the Overseas Collectivité of
St. Martin held a historic meeting on July 10, 2018.
Department Heads of Culture, Ms. Clara Reyes (Dutch) and Ms. Minerva Noel (French) came to together on this momentous occasion to dialogue, explore and exchange ideas for integrated cultural development.
This gathering, the first of its kind, was a meeting of minds, bringing together, from both halves of the island, a team of dedicated civil servants committed to seeing the betterment of Saint Martin's Cultural landscape.
"Culture does not stop at the border," Reyes said, acknowledging that both department heads are committed in their conviction that the Saint Martin story must have a prominent position in the community.
Both Heads of Department, dedicated cultural stalwarts in their own right, look forward to future collaborations on several projects and activities.
"We expect that these joint ventures will enhance communications and increased mutual understanding between both Governments," Noel said.
"Saint Martin Island as whole shares crucial elements of history and intangible and tangible heritage. Only by connecting on as many points can Saint Martin's cultural identity, educational curriculum and national pride be rediscovered, restored and celebrated," Reyes said.
Both parties agreed that a way to bridge the cultural gaps is through future collaborations and encourage the public to stay tuned for more information on these activities and how they can be a part of the island's cultural revolution and evolution. The exploration of Joint cultural projects between the Dutch and French side is in keeping with the governing program 2018-2022. We encourage everyone to download a copy at the government's website www.sintmaartengov.org. For more information on the Department of Culture and our mission, kindly contact us via 721-520-5340 and/or This email address is being protected from spambots. You need JavaScript enabled to view it..