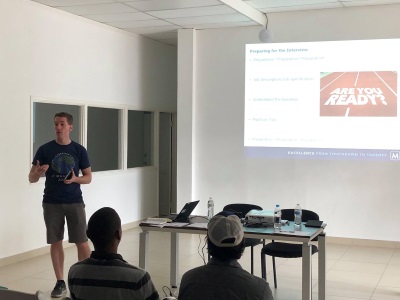 PHILIPSBURG:--- On behalf of the K1 Britannia Foundation, we'd like to invite one and all, but in specific students rounding off high school or recent graduates to join us on Monday, December 3rd at 12:30 PM for a one-hour resume building clinic followed by a one-hour personal impact skills workshop hosted by the executives of Menzies Aviation. The workshops will be held at Emmaplein #1 at the Corporate Training Center (previous office of SEL Maduro & Sons Travel Agency) which is located next to Jump Up Casino.
As of last Wednesday, the group of 12 leaders from the global business has been on St. Maarten engaged in their 2018 Cultural Leadership challenge. While here, they have partnered with K1 Britannia Foundation & Player Development after-school program to learn about our programs for vulnerable youth. They have learned masonry, electrical, and carpentry skills from the students of NIPA and baseball skills from the students of PD.
In the spirit of learning and giving, they will be hosting this workshop for individuals entering or re-entering the workforce since Irma. The skills they will be teaching, including resume writing, job interview skills, and maintaining a job, are things they as leaders in their business look for when hiring.
"We believe this is a great opportunity for young persons in particular to polish these skills and network," said K1 Project Manager Iris Hakkens.
In conclusion to their trip and as part of their challenge, Menzies Aviation team has also made a film which they will launch on Monday, December 3rd at the same location starting at 2:30 pm. This event is open to all, so please do join us.