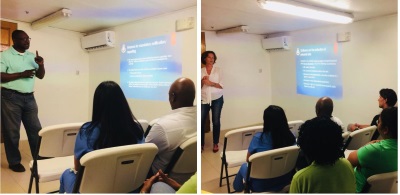 PHILIPSBURG:--- Last Friday, November 30th, the Mental Health Foundation had their first bi-monthly Happy Hour Lecture!
The first part of this event consisted of a presentation given by Inspector General Dr. Earl W. A Best and colleagues of the Ministry for Public Health, Social Development and Labor. The MHF staff was given an update on the newest developments regarding the publication of information by Dana Kweekel and reporting of calamities by John Connor.
After the discussion following the presentation, there was the opportunity to socialize and start off the weekend together!
Thanks again to Dr. W. A Earl Best and colleagues!