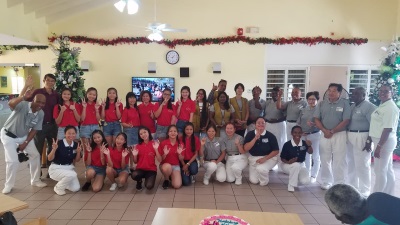 PHILIPSBURG:--- The St. Maarten Tzu Chi Foundation helped seniors and staff at the St. Martin's Home start the new year off with smiles on their faces when its volunteers presented 108 gift packages filled with goodies and essentials to them during a visit on the first day of the new year.

The visit to the home is part of a long-time tradition that the foundation has been involved in for the past decade and a half. The event also kicks off the foundation's annual charity program.

This year a total of 31 volunteers including 13 dance troupe members from the St. Maarten Chinese Community Foundation visited the home to entertain the elderly clients and present them with gifts.

As is customary, volunteers arrived at the home during the lunch period of clients so that they can assist in feeding the seniors and also to create a feeling of love and care and engage in positive interactions with them.

Following lunch, a formal welcome was done demonstrating the diversity of the many nationalities of Tzu Chi's members and volunteers.

Tzu Chi St. Maarten Commissioner Sandra Cheung then delivered a brief history of Tzu Chi emphasizing the involvement and commitment of volunteers in tending to the needy in Dutch St. Maarten and French St. Martin following hurricanes Irma and Maria in September 2017.

The seniors were then invited to participate in a brief relaxing exercise to encourage team spirit and a sense of wellness. Volunteers also did a demonstration of Tai Chi meditation.

Seniors were also entertained with a cultural dance presentation put on by members of the St. Maarten Chinese Community Foundation.

A special New Year cake baked specially for seniors was also cut and shared with everyone present. This was followed by the presentation of gifts to clients and staffers. Gifts included a Red Pocket envelope which is symbolic of Tzu Chi Founder Master Cheng Yen's gratitude, appreciation, love, and compassion to all sentient beings globally and the foundation's gift bags.

The ceremony ended with a closing prayer and the sharing of happy greetings for the New Year by those in attendance.

Following the ceremony, several of the seniors., who were present said they enjoyed the program immensely and thanked the foundation for visiting them on the first day of the New Year to spend time with them, perform for them and share gifts with them. Many of them look forward to the foundation's monthly visits to the home on the last Sunday of each month, where they are pampered with tender loving care of gentle massages, healthy conversations, polishing of their nails and entertaining and educational presentations.

Cheung said she is grateful that volunteers again started their year off on a positive note by making others smile and she expressed gratitude to seniors and staff of the St. Martin's Home for always being gracious hosts.