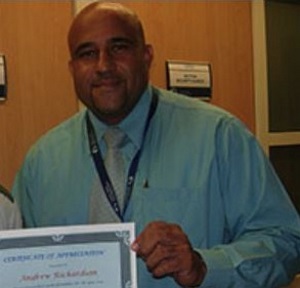 PHILIPSBURG:--- Jerry Sprott the Chief Security of Princess Juliana International Airport (PJIAE) was discharged from the St. Maarten Medical Center (SMMC) on Friday. Sprott was also released from pretrial detention due to his medical condition.
Attorney at Law Sjamira Roseburg confirmed that her client has been released from pretrial detention and he is currently at home recuperating.
Sprott was taken to the SMMC by ambulance on February 6th after complaining for a few days prior to that he was feeling unwell.
At the time Sprott fell ill he was in his 30 day period of pretrial detention. Jerry Sprott was arrested on January 16th, 2019 as a suspect in an ongoing bribery investigation. The Anti Corruption Team (TBO) arrested Sprott on his job while they searched his home and office. The TBO stated in a press release that Sprott is suspected of accepting bribes, money laundering, and complicity in the violation of the duty to register foreign exchange.