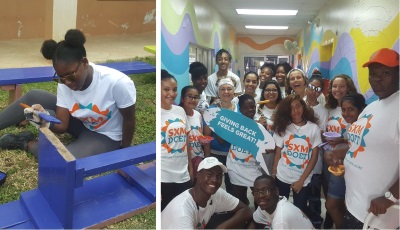 PHILIPSBURG:--- The 5th edition of SXM DOET will commence this Friday, March 15th, with over 2.000 volunteers being requested to assist 85 local organizations to successfully execute projects that benefit themselves and, in turn, the community. Projects range from building school benches, gardening, painting murals, cleanups, fixing basketball courts, creating recycle bins, clearing hiking trails, baking cookies, taking special kids out for a fun day out, island tours with the elderly and senior Olympics, creating little libraries, restoring a historical site, amongst many many more projects.

Individuals, businesses, schools, social organizations, sporting and church groups, friends and families have joined SXM DOET in the past years to make a positive change on Sint Maarten. Every year more and more persons roll up their sleeves to help assist where it is needed most. Last year a record 2.000 persons assisted with 108 projects, this year will be even bigger and better. There are still a few projects open and looking for some assistance, either on Friday, March 15th and/or Saturday, March 16th. It's a great way to give back, make an impact, in a short time-span.
SXM DOET is an initiative initiated and funded by the Oranje Fonds in the Netherlands, locally executed and managed by the Be The Change Foundation. DOET has been in existence throughout the Kingdom for 15 years, now having all Kingdom partners participating. Collectively this has led to over 400.000 persons volunteering throughout the Kingdom at over 10.000 projects.
To help contribute go to www.sxmdoet.com, choose a project of your liking and sign up. The organization will take care of the rest. Do not miss out on being part of this feel-good event.
To sign up as a volunteer for SXM DOET, just surf to www.sxmdoet.com. For more information on SXM DOET contact: the SXM DOET Project Management Team, Melanie Choisy, Fleur Hermanides or Laura Bijnsdorp, at This email address is being protected from spambots. You need JavaScript enabled to view it..
SXM DOET is implemented by The Be The Change Foundation, in collaboration with funding from the Oranje Fonds in the Netherlands.