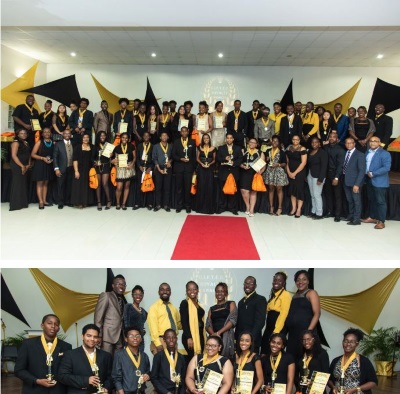 PHILIPSBURG:--- Forty-three students were celebrated for their outstanding work in the categories of Athletics, Expressive Arts, Academics, Leadership and Community Service at the G.I.F.T.E.D. Foundation's 4th Annual "GIFTED Royalty Awards". Six local high schools nominated their students in this year's event. One young queen and one young king were selected from among their peers to be crowned King and Queen from the 5 categories. The event was recently held at the Belair Community Centre.
In Community Service, Brandon Fitzpatrick (St. Dominic High) and Geraldine Benders (St. Maarten Academy) walked away with the trophies. In Academics, David Beek (St. Maarten Academy) and Yvette Rosario (St. Dominic High) captured the award. For Athletics, Andres Patrick (MAC-CSE) and Judine Francis (MAC-CSE) bagged the prize. In the Expressive Arts, the winners were Tyler Percival (St. Maarten Academy PSVE) and Aziza Vanterpool (Milton Peters College). For Leadership, Jesus Mateo Ortiz Bejarano (St. Maarten Academy) and K'nisha Radjouki (St. Maarten Academy) emerged victoriously.
St. Maarten Academy dominated the awards by taking home 4 trophies in 3 categories, one of which being Leadership where the both King and Queen recipients were from that school. MAC-CSE dominated the area of Athletics. St. Dominic High shared the Community Service and Academics categories. Milton Peter's sole nominee also did her school proud by bringing home the trophy in the Expressive Arts category, while the King prize went home to St. Maarten Academy PSVE.
St. Maarten's very own cultural ambassador, Ms. Nicole DeWeever was celebrated that night. DeWeever was awarded GIFTED's "World Changer" Award for her outstanding contributions to the community. Her years of service and dedication to the improvement of the expressive arts on St. Maarten were recognized in addition to her spirit of community service and youth development. DeWeever stands as a role model for many youth to follow.
In considering the recommendation given by Minister of Education, Culture, Youth and Sport, the Honourable Wycliffe Smith, GIFTED Foundation will be exploring the possibility of two additional categories for the next GIFTED Royalty Awards. The categories recommended are Technology and Vocational. GIFTED Foundation is a non-profit organization and as such, donations are encouraged from citizens and corporate sponsors.
GIFTED Foundation continues to highlight young people in the community who are excelling in their fields and encourages the youth to continue striving for excellence. The profiles of all nominees are posted on the GIFTED Foundation's Facebook page.