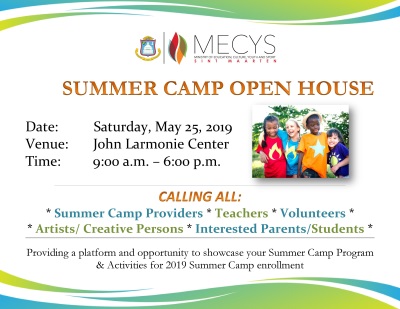 PHILIPSBURG:--- The Department of Culture within the Ministry of Education, Culture, Youth, and Sport (MECYS) will host the first Creative Industries' Summer Camp Open House on Saturday, May 25, 2019, at the John Larmonie Center in Philipsburg from 9:00 a.m. – 6:00 p.m.
We are calling on all stakeholders such as artists, creatives, cultural organizations/foundations, companies, entrepreneurs, summer camp teachers and volunteers to register with the Department of Culture for the Open House to exhibit your summer programs and exchange information with interested parents and students.
The Summer Camp Open House is an opportunity to have all the various summer camp related activities under one roof. This is an opportunity for parents seeking a summer program and organizations hosting a summer camp to connect with potential creative teachers or volunteers that would like to be a part of a summer program. The Summer Camp Open House is one-stop-shop displaying creative arts summer programs and activities available to the community. The Department of Culture welcomes all summer camp providers to this event in a shared effort to increase summer program enrollment and engagement.
To register as an artist, an organization, a teacher or a volunteer for this year's Creative Summer Camp Open House, kindly follow the link: https://forms.gle/s4sbNJheya3NXNqV9 or contact the Department of Culture, MECYS via 721-520-5340 and/or This email address is being protected from spambots. You need JavaScript enabled to view it..