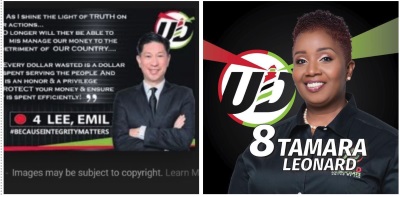 ~Inside fighting in the UD camp, will MP Leonard buckle to political pressure.?~

PHILIPSBURG:--- United Democrats Member of Parliament Tamara Leonard who is currently holding the seat in parliament that was vacated by now ousted Minister Emil Lee is under pressure from the higher-ups in the United Democrats Party to vacate the seat so that the ousted Minister Emil Lee can get back his seat in parliament.
Sources say that leader of the UD Sarah Wescott Williams and even former leader Theodore Heyliger who is currently off island on medical are all putting severe pressure on the MP to vacate the seat so that Emil Lee could return to Parliament.
While the leaders and deputy leaders of the United Democrats are putting undue pressure on MP Leonard there is no law or article in the constitution that would force the MP to vacate her seat for an ousted Minister. Clearly, the Minister has failed at least one of his coalition partner or partners and has lost confidence bestowed upon him. Should the ousted Minister return to Parliament there will be some infighting between him and MP Luc Mercelina, also the ousted Minister/MP will then put undue pressure on the incoming Minister to follow through on his projects especially the New General Hospital with a bankrupt contractor.
Ministers who lost their post as a Minister whether by a motion of no confidence or by-election normally collect their full salary for a period of six months, which is then reduced up to 60% if he or she is under the age of 60.
However, if Lee takes up back his seat in parliament then he will not be entitled to the transition money that is set aside for politicians. Normally politicians who lose their job in government or parliament gets the transition money if they are not employed however, in the case of Emil Lee is a businessman and will most likely not loose income.