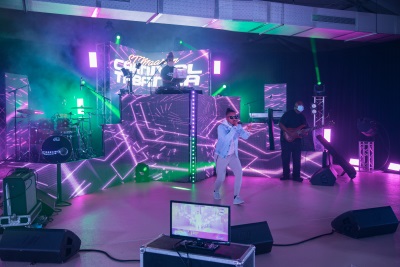 PHILIPSBURG:---On Sunday, May 10th, 2020, Kalaboom Events in collaboration with Sound Masters, Port of St. Maarten, SMDF (St. Maarten Development Fund), IO TV, SXM Beer, Auto Depot and Karuline Water hosted an online virtual Facebook concert dubbed "Carnival Tabanca". This virtual concert was produced in an effort to raise funds to assist those in need of material supplies during the COVID-19 pandemic.
President of the Kalaboom Events Team Mr. Skelet explained: "It's important that we help each other during our dark time as well as we do during our light times. We have a lot of love for our island and we need to behave as such".
This online virtual event was held from 6 PM – 12 AM and featured some of St. Maarten's favorite artists such as; King James, Official Band, King Kembe, DJ Maestro, DJ Big Boss, DJ Outkast, Red Eye Crew and, hosted by Gee Money. Presently, with a number of over 64,000 viewers watched as we displayed our culture, music and entertainment standards to the world.
During the live Kalaboom was able to raise $205 in donation funds done on the access.fr website. This will be given to the St. Maarten Development Fund Foundation.
In addition to the monetary donation, 500 disposable masks were donated by Auto Depot, 100 packs of Karuline water donated by Karuline, 147 purchased reusable facemask by online viewers and, 100 reusable face masks donated by Kalaboom Events. These items will be distributed to persons/ organizations in need, such as the "White and Yellow Cross", "Sister Basilia Center", "The Bethany Home" and, 'Tournesol Association".
Phase one of the Kalaboom relief project consisted of 800+ plates of food donated to all frontline personnel, foundation and, persons who were singled out in need. Kalaboom would like to thank all the catering companies who partnered on this generous adventure alongside those who contributed financially to assist in purchasing supplies for the caterers.
In closing Kalaboom would also like to thank those who were involved in the planning, execution and contribution of the Facebook Live event. As a first-time concept for St. Maarten this shows that we can be innovative and continue to promote our island during any difficult condition.