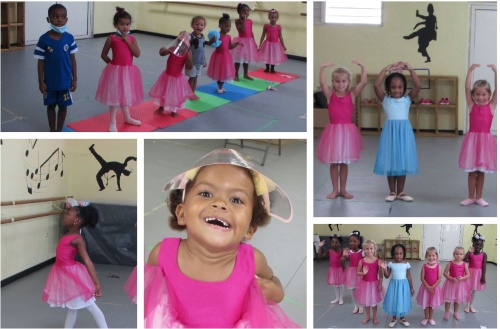 PHILIPSBURG:--- The National Institute of Arts (NIA) kicked of the new school year in September with a very special collaboration between the Bronxville Ballet NOT FOR SALE, director Ana Dimas and Arts Saves Lives' director Nicole de Weever. The Director of NIA, Arlene Halley, was very touched by the gesture and exclaimed: "just when you think the rain is not going to stop a ray of sunshine breaks through".
Bronxville Ballet NOT FOR SALE is Ana Dimas' nonprofit foundation that takes its name from the notion that the best things in life are indeed, NOT FOR SALE. The best things in life should be given away.
In Ana's desire to give back to the community, she is collaborating with studios around the world offering the joy of Ballet to those in need or with special needs, the hope of Ana's program is of having the girls learn new skills, gain a positive self-image and have a chance be a "princess".
Ana not only sponsored 10 classes for the students but with the assistance of Nicole de Weever, NIA received nothing less than 25 "Princess" dresses, custom made and hand-delivered from New York by Nicole de Weever.
Through this kind donation, NIA has been able to offer these ballet classes free of charge for 25 young ballerinas from 3 years to 8 years old. The participating "princesses" have already received their dresses which they joyfully sport in every class. Due to the COVID-19 prevention measures the class has been split into 3-5-year-olds and 6-8 years old. Ms. Arlene announced excitedly to the donors the enrollment of two additional 'prince charming'.
It is with heartfelt gratitude that NIA would like to thank the Bronx Ballet NOT FOR SALE and Art Saves Lives, Ana and Nicole, for this wonderful initiative towards our St. Maarten children and for promoting the art and benefits of ballet especially in these difficult times when it is so needed to bring some joy to the little ones and a touch of Magic.