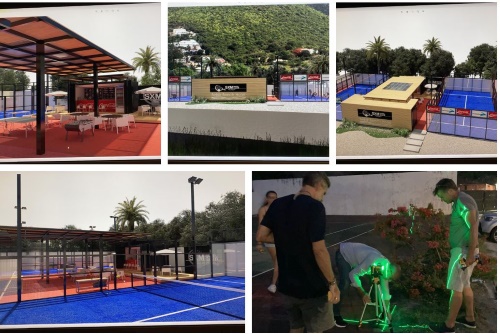 PHILIPSBURG:--- Padel is recognized as the fastest growing sport in the world and with no doubt the most rapidly growing racket sport worldwide. The sport began in 1969 and soon gained popularity in South America, Spain, France, Italy, Netherlands, Belgium, and many Nordic countries since it can be played indoors and outdoors year-round. It is also growing momentum in the US with courts all over the country from Florida, California, Texas, NY, Puerto Rico, and many more either under construction or in the making. It is estimated there are over 10,000 plus Padel courts all over the world.
Padel is typically played in doubles on an enclosed court roughly 25% smaller than the size of a tennis court. Scoring is the same as normal tennis and the balls used are similar but with a little less pressure. The main differences are that the court has walls and the balls can be played off them in a similar way as in the game of squash and that solid, stringless bats are used. The height of the ball being served must be at or below the waist level.
The St. Maarten club will have 2 states of the art courts supplied by Padel10 the top producer of courts in the world with one of the courts to be a professional regulation court. Hopefully, the club will attract some exhibitions and tournaments of the World Padel Tour (WPT). In addition, the facility will have a fully stocked pro-shop with equipment for sale and in addition to activewear. The club has already negotiated distribution rights with Padel Nuestro, the number one equipment retailer in the world, and clothing brands like Sofiabella and Technifibre(in progress) among others coming soon.
The club will also host 2 regulation lit pétanque courts, very popular in Europe and the French part of the island. In addition, the facilities will have showers and changing rooms in addition to a convenient snack and refreshment stand.
The club will be open for players of all levels and ages. Clinics, lessons, friendly matches, and tournaments will be organized. Players will be able to walk in and rent the courts by the hour or take advantage of the various membership programs. Soon we will be introducing a limited Founding Member/Corporate sponsorship 10-year program for sale. The club is expected to be fully operational by November 2021.
Sxm Padel Group BV is the developer and operator of the club. This project has been approved and benefited from the National Recovery Program Bureau Enterprise Support Program grant/loan program.
For more information call 721-545-3890, 721-520-4319, 721-520-1381. By email to This email address is being protected from spambots. You need JavaScript enabled to view it.. You can also visit our web page www.sxmpadelgroup.com or our Facebook and Instagram page.