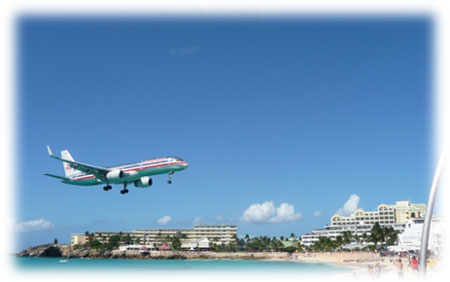 PHILIPSBURG:--- Maho Beach in St. Maarten (www.VacationStMaarten.com) has been named the number one 'Truly Unique Beach' in the world by TripAdvisor.com. Due to the beach's close proximity to the Princess Juliana International Airport, the location is one of the few places in the world where aircrafts can be viewed in their flight path just outside the end of the runway.
"We are incredibly proud to have one of our beautiful beaches awarded the honor of being the number one 'Truly Unique Beach' by TripAdvisor.com. It is the unique attractions and places like Maho Beach that make St. Maarten a favorite destination of travelers around the world," said Augusto Priest, acting tourism director for the St. Maarten Tourist Bureau.
Watching airliners pass over the beach is such a popular activity for beachgoers that the arrivals and departures timetables are displayed in many of the local bars and restaurants.
"Sonesta Maho Beach Resort & Casino is delighted that the readers of TripAdvisor.com have chosen our beach as a 'Truly Unique Beach,'" said Armando Pizzuti, vice president of hotel operations for Sonesta Maho Beach Resort & Casino. "This a just another great value for our guests to enjoy!"
For even more excitement, the nearby Sunset Bar & Grill broadcasts the radio transmissions between the pilots and the airport's control tower to its patrons.
"With our unique location, friendly staff and great food, Sunset Bar & Grill does its best to capture the true meaning of 'Sea, Sand, Sun, Fun... and AIRPLANES!'" said Melissa Peterson, manager of Sunset Bar & Grill. "We are absolutely privileged to be a part of this," Peterson added.