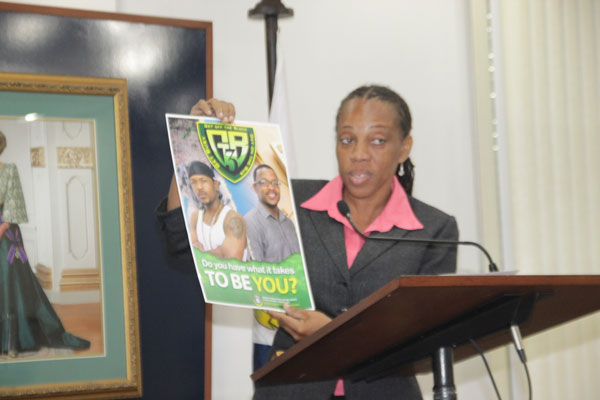 Philipsburg:--- Minister of Education, Youth and Sports Rhoda Arrindell said on Wednesday that the Get off the Block, Get on the Bus GB3 youth project will be launched on Saturday April 2nd 2011. The Minister said on that day two buses will be available to pick up pre-registered participants from the various districts during a drive that will also serve as an island tour to give the youngsters a good and perhaps different view of their island, St. Maarten.
This would hopefully serve as a motivation for them to want to make it even better, because it belongs to them. On the bus, they will be introduced to mentors specially chosen from various walks of life, who are expected to ultimately adopt them. The bus ride will end up at Port de Plaisance where they will have lunch and be addressed by motivational speakers from the island and from Tallahassee, Florida, where a similar program has been enjoying resounding success.
Several stakeholders who have pledged support to the project will be able to establish booths from where they can communicate directly with the youngsters to offer them their services.
The day will conclude with an exhibition basketball game between the worlds famous AND 1 who will be returning to the island solely for this purpose, and a St. Martin selection that will include some of the participants. Naturally, AND 1 will also address the youth.
The Minister said within short the pre-registration drive will begin in the various districts the Minister said. Targeted are boys and girls between the 13 and 25 age group who are jobless, need training or need to go back to finish their schooling.
"We want to get them off the block, get them on the bus and get them busy immediately after the April 2nd launch."Minister Arrindell said the project is a pilot project which will last for three months until June. Some of the partners have been expressing eagerness to start with the project. The Minister also launched the poster for the GB3 project which was created by Loic Bryan.