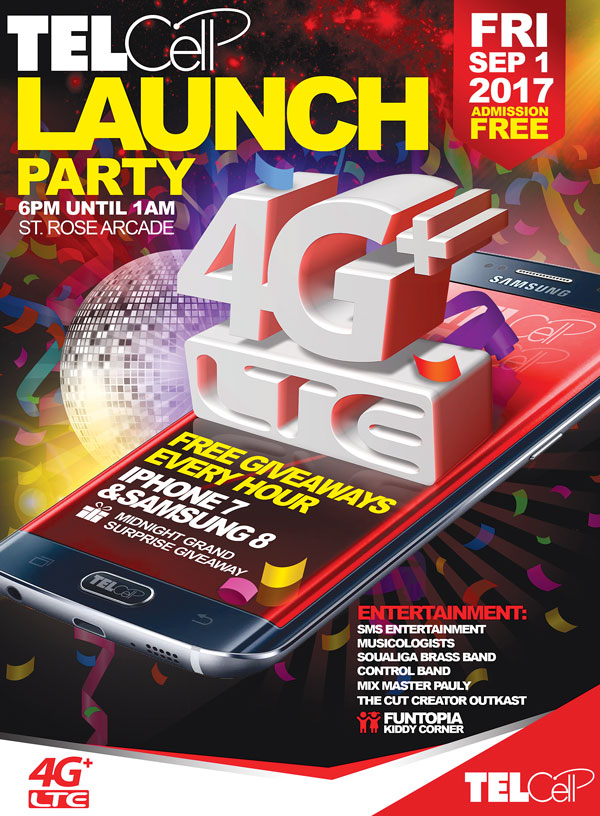 Pond Island:--- It's official. Premium mobile provider TelCell, will be launching it's brand new, super-fast 4G LTE mobile network on September 1 in a blaze of excitement in front of hundreds of invited guests at the St. Rose Arcade, on the Boardwalk.
TelCell says St. Maarten's newest data network has been through a series of configurations and tests to prepare it for the Sept. 1 launch and as of this week, technicians and engineers are confident it will perform optimally once customers begin populating and using the network.
In order to enjoy all the features and speed of the TelCell 4G+LTE network mobile data, customers must have a TelCell 4G/LTE Sim card in their smartphone and 4G LTE enabled mobile devices. The Sim card is available as a free swap from TelEm Group locations until the official launch date - when the free offer date expires.
TelCell says current Sim cards can be swapped for FREE only until August 31, after which customers will have to pay for their own 4G+LTE sim card.
"Anyone who has not yet swapped their current Sim card to the new 4G+LTE sim card should do so right away while the free offer is available to avoid paying for the fantastic user experience everyone will be speaking about once they check out our service," said TelEm Group Manager, Marketing and Sales, Grisha Marten.
She said after months of work behind the scenes and in the field, Telcel's brand new mobile network is ready to make its appearance on the local telecommunication stage in a loud and colorful launch party to mark the occasion.
The launch party will feature high-end mobile phone giveaways such as iPhone 7s and Samsung 8s on the hour and a "Midnight Special" that will be sent guests wild.
"Bands and DJs, including SMS Entertainment Band, Musicologist Band, Control Band, The Cut Creator Outkast, Mix Master Pauly and various Soca Rumble artist will be joining the party to keep the tempo up and our guests entertained for the entire night and into the early hour of the morning," said Grisha.
The Manager, Marketing, and Sales are especially pleased with the number of customers who have already called in at TelEm Group locations to swap in their Sim card for their FREE new 4G+LTE sim card in anticipation of the Sept. 1 network launch.
"So many of our TelCell customers have been extremely loyal and have patiently waited to be officially informed via an SMS message that they can activate their new Sim card and begin using the enhanced features. That wait will soon be over," said Grisha.
She says as an additional gesture to other loyal customers, FREE sim card swaps will also be offered during the September 1st launch party even though the date for swapping will have officially expired.
"It's all part of what we continue to do for TelCell's amazing customer base – give them MORE whenever possible," Grisha added.