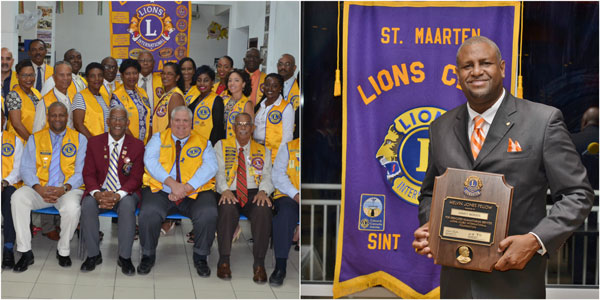 PHILIPSBURG:--- The St. Maarten Lions has closed of 2016-2017 by winning Club of the Year Award for Region 2 from Immediate Past District Governor Lion Errol Lee. The club previously won Club of the Quarter over the months July thru September 2016. Sub-District 60b comprises of four regions and Region 2 comprises of 15 clubs spread over the islands of USVI, BVI, Saba, St. Eustatius, Anguilla, St. Kitts & Nevis, Montserrat, Antigua, Dominica, and St. Maarten.
St. Maarten Lions Club Immediate Past President Lion Davey Woods stated, "I am extremely happy and grateful that the District Governor has recognized the hard work that the Board and members of the St. Maarten Lions Club have put in over 2016-2017 for the St. Maarten community. Our membership has worked hard and deserves the recognition in being named Club of the Year. I have to also thank the St. Maarten business community and the public in general for always supporting our various projects whenever we approach them and we urge them to continue supporting us so that we can continue to do great community work. We definitely could not serve our community without them".
The Board of the St. Maarten Lions Club also recently awarded immediate past president Lion Davey Woods with a Melvin Jones Fellowship Award for his hard work in Lionism over the years since he has joined the club in 2008. Lions Clubs worldwide recognize outstanding individuals by bestowing on them an award that is named for its founder, Melvin Jones. This award is the highest form of recognition and embodies humanitarian ideas consistent with the nature and purpose of Lionism. As of January 2016, there are 386,804 Melvin Jones Fellow recipients around the world.
Lions Clubs International (LCI) is an international secular, non-political service organization founded by Melvin Jones in 1917. As of April 2017, it had over 47,000 local clubs and more than 1.4 million members in over 200 countries around the world. Headquartered in Oak Brook, Illinois, United States, the organization aims to meet the needs of communities on a local and global scale. The organization just recently celebrated its 100th year with a grand celebration at their International Convention which was held in Chicago June 29th – July 4th. The St. Maarten Lions Club has been a member of Lions Club International since December 12th. 1970.