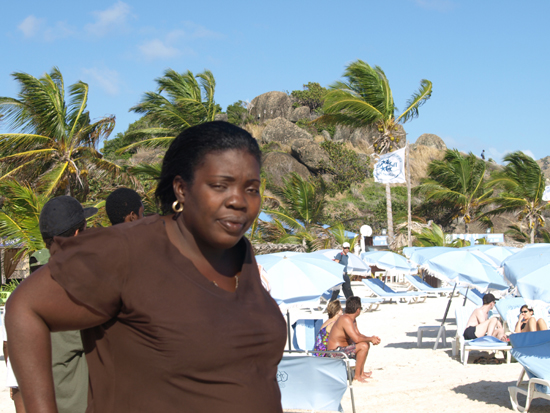 Marigot: --- "I did all I could to save my daughter from her killers but she did not see it that way, instead my daughter in her blindness considered me as an enemy. Just days prior to her death I spoke to my daughter and I know she was angry. "I said to Nejumbia any man who can sleep with three or four women the same night has to have a mental problem."
The young man Rosendo Kingsdale allegedly exposed himself to an elderly woman who had to even run him away with a machete." This gave me clear indications that the young man had a mental problem and I spoke to my daughter and even instructed her to speak with the young man's parents whom she eventually did speak with but the parents were in denial saying nothing is wrong with their son. Nancy Fleming told SMN News.

"I have also witnessed this man kissing other women on the streets, on many occasions I confronted him and even would slap him around, but none of this changed him". Nancy said on numerous occasions the neighbors would call her to go and rescue her daughter because her boyfriend would be beating on her. "I did this on so many occasions and I even urged my daughter to get out of the relationship but she did not listen. She was blinded by the young man's looks and charm." Nancy explained.

"Rosendo even moved out just prior to hurricane Omar after I confronted him about what he did to the elderly neighbor but when there was no light and water on the Dutch side he moved in back to the house with my daughter, even though he said he did not want her any longer and was going to live with his first child mother Rochely De Windt."

Nancy said that her daughter finally got the courage to tell her boyfriend to leave the house since he was having too many affairs and one of his women Rochely De Windt had confronted her telling her she need the man to get married to. "When Nejumbia told him that he began beating her and I had to jump in again, but when I began throwing blows on him my daughter told me to stop because she loved him. I even asked my daughter how could she be in love with someone who have been constantly beating her as well as breaking up the furniture in the house, this made my daughter's think I am her enemy simply because I wanted her to know what is the true meaning of Love, but she could not understand me" a tearful Nancy said she was not her daughter's enemy instead she was her friend, and mother, and the one to be by her side when things were bad and good. "I even asked the young man why he was cheating on my daughter and told him if she was no longer good for him then he should leaver her in peace, but his response was he did not know why he was unfaithful", the bereaved mother further explained.

Nancy said the night prior to the incident she got a terrible dream and she saw her daughter and Rosendo in that dream and she told her daughter about the dream, even asking her if she was sure she was going out with her colleagues on the night she was murdered. "But Nejumbia said mom which part of what I told you, you did not understand, I told I am going to the breast cancer awareness show with my colleagues".

"I am sure Rosendo killed my daughter and grand daughter and I am asking for true justice, which is his head on a plateau. I am appealing to the Lt. Governor and every other judicial authority to make sure justice is served in this case because I am a true Antillean. "I need Rosendo to get the same medicine he inflicted on my daughter and granddaughter because I don't want them to be feeding him with my tax monies." Nancy said.

Furthermore, Nancy said when she heard the bomb like sound twice and the slamming of a door and she looked out and saw someone running away from the scene; she is sure that someone she saw was Rosendo Kingsdale and she wants nothing less but true justice. The only place to give that justice is the French side where the crime was committed.
"I need people to know that I know the young man, he lived in my house for more than two years, so for people to think I am jumping to conclusions and accusing the wrong person is not the case."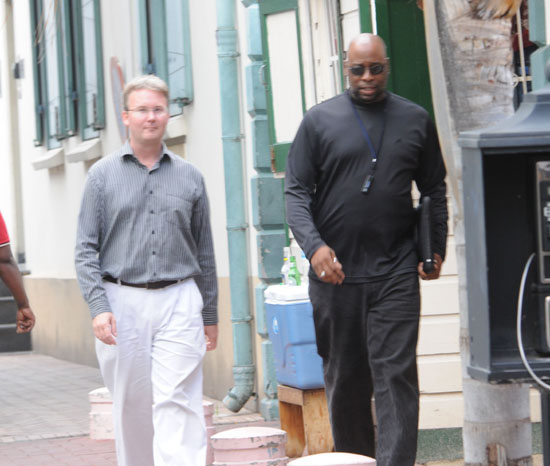 In the meantime one of the alleged killers Rochely De Windt is now on the French side where she is being interrogated by the gendarmes. While Rosendo Kingsdale remains in police custody on the Dutch side since he has objected to go over to the French side voluntarily. The judge of instruction along with the court recorder and attorney at law Jason Rogers from Gibson and Associates was seen leaving the police station yesterday afternoon. It is understood Kingsdale receive the procedural visit to extend his time in pre-trial detention. The first extension is normally for eight days.