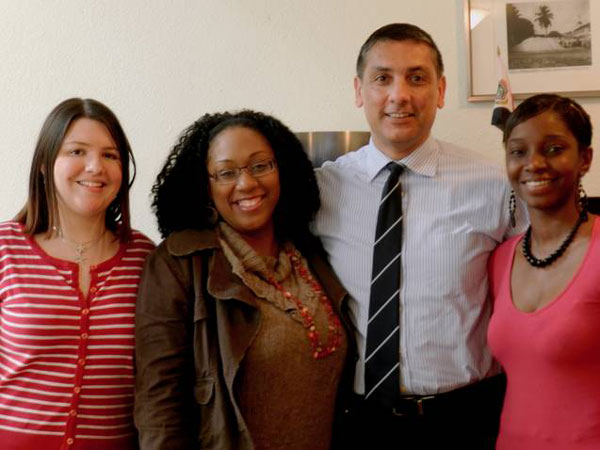 Soualiga Foundation (SSF) is extremely grateful and encouraged by the support and endorsements received so far from dignitaries both on Sint Maarten and in the Netherlands.
After announcing plans to host a student forum with the primary purpose of documenting factors that affect the academic performance of Sint Maarten students in the Netherlands, SSF has received much praise from diverse government officials.
Hon. Prime Minister Sarah Wescot-Williams, Hon. Vice Prime Minister, Mr. Theo Heyliger, Minister of Education, Dr. Rhoda Arrindell, and Minister of Health Care, Social Development & Labor, Dr. Cornelis de Weever, have all encouraged the initiative. Three of the ministers have also indicated their desire to be present for the event, and are looking into their schedules to see if this will be feasible.
The Minister Plenipotentiary of Sint Maarten, Hon. Mathias S. Voges, has also pledged his support and made his Cabinet's facilities available to the foundation.
"It is very encouraging to see that our goals are shared by dignitaries such as these. We are of the opinion that this is the way that we can do our bit to help build and develop Country St. Maarten. These endorsements further confirm to us that Soualiga Foundation is on the right track, and that we are contributing to the nation-building process", said Mr. Perry Geerlings, SSF's chairman.
"I know that this subject is close the hearts of the ministers. SSF wants to work closely together with them to better streamline our common goals and efforts, particularly where it concerns the return of our people to St. Maarten", he continued.
The organizing committee, whose members are Carol Voges (Treasurer), Aishira Cicilia (Secretary), Maria Charles, Deshanna Richardson and Vayolette Laguerre (Public Relations/Communications), Garrick Richardson and Melissa Gumbs (Members) and Perry Geerlings (Chairman), are in full swing with regards to preparations, and has found a good cooperative partner in the S-4 Foundation.
The S-4 Foundation has enabled SSF to reach, inform and motivate students and graduates to take part in the Forum. "We are aiming at preparing the participants as much as possible prior to the date of the forum, in order to make their contribution and input to the discussions and solution-finding a comprehensive and valuable one", Mr. Geerlings said.
During the forum, students, recent graduates and young professionals will review the following topics of discussion:
Section 1: Studying Successfully/Not Successfully
Educational Factors
Personal Factors
Social Factors
Financial Factors
Section 2: Returning Successfully
Why is it important to return to Sint Maarten?
What are the criteria for a successful return?
What do you feel is the government's role in this?
What is your own role in this?
Why would you not return to Sint Maarten?
Section 3: Creating Solutions
What are possible solutions for the improvement of negative areas?
Registration for the event began earlier this week.
SSF encourages the business community to support its goals and efforts in any way they can. Interested supporters, donors and sponsors are urged to contact the foundation at This email address is being protected from spambots. You need JavaScript enabled to view it. or phone us at 0031-70-215 60 67.