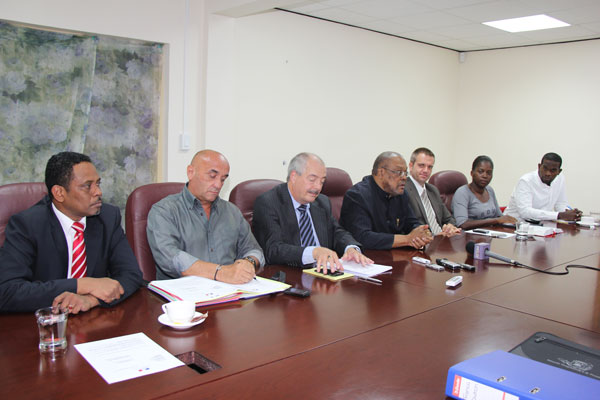 Philipsburg:--- Minister of Justice Roland Duncan told reporters at a brief press conference on Friday afternoon that the Franco–Dutch Treaty which was ratified by France and the Netherlands over 17 years ago will soon take effect on St. Maarten. Minister Duncan explained that a committee has been established to execute the Franco–Dutch treaty and Friday was the first time the committee met at the Immigration section of IND Building on A.T. Illidge Road. The Franco-Dutch treaty committee members from the Dutch side are Attorney General of St. Maarten Taco Stein and Head of Immigration Udo Aron, from the French side the committee members are Vice Prosecutor Flavien Noailles and Director of the Police Aux Frontiers (PAF) Raphael Harley.
Minister Duncan said right now the committee is working out the plans they have in mind to have French Immigration Officers (PAF) at the Princess Juliana International Airport when there are flights coming to St. Maarten that are considered 'risk' flights. Dutch Immigration Officers will also be at the Grand Case (L' Esperance) Airport under the same conditions.
SMN News reporter asked the Minister of Justice and the members of the committee if it would be possible for French residents or French nationals to travel within French territories including St. Martin through PJIAE with their French Identification cards. Minister Duncan said that as a long as the PAF is at PJIAE they will check the travel documents of the persons going to the French side and if its valid and authentic then the person can use their French Identification cards. It should be noted that just over two years ago the French Hotel Association spoke out against the Dutch side who informed the French side that French travelers would have to travel with their passports and not identification cards.
The Minister of Justice explained that when the meetings are kept on the Dutch side of the island they will be chaired by Attorney General Taco Stein and when they are kept on the French side by Vice Prosecutor Flavien Noailles. The Minister said the booths at the Immigration check points at PJIAE have already been extended to accommodate their colleagues from the PAF. The committee is also tasked with working out the budget for the implementation of the Franco-Dutch treaty. Duncan said that there will be joint controls under the conditions of the Franco-Dutch treaty.
The committee will also be working on having immigration officers at the harbors but that is not yet in the place. Duncan said during the first phase of the project focus will be placed on the two airports, after that they will also work on joint policing since the law is already in place.