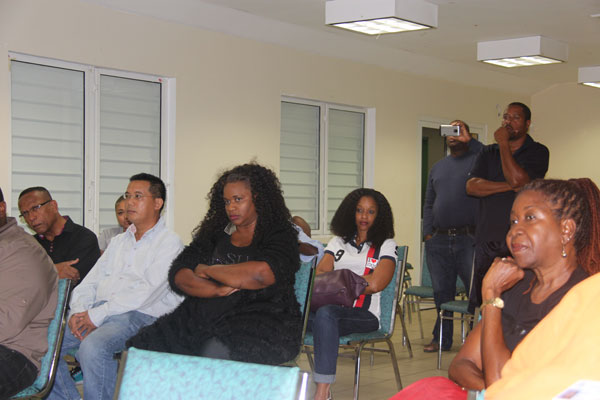 St. Peters:--- On Thursday January 14th, the SHOOT HOOPS NOT GUNS Committee presented their community project to the invited community councils of Sint Maarten. The year long project was met with great enthusiasm by the councils in attendance and other people who decided to visit the to learn more about the project.
Committee member Alston Lourens, began the presentation by briefly showing over 20 news clippings of related gun violence in Sint Maarten in 2015 to the audience who were reminded of the horrific stories that graced the newspaper this past year. "We need to do what we must to change the headlines of the news in our country going forward" said Lourens.
During the presentation previous successful large scale campaigns were referred to namely the Keep SXM Clean and Drug Free Body campaigns, that also spread thousands of shirts around the island. After the presentation, the audience took turns commending the committee and asking relevant questions pertaining to the project. The councils were surprised to learn that the project had less to do with basketball and more to do with encouraging community activity, ownership and working towards common goals. The SHNG committee will facilitate the organization, training and execution of the Oasis Games methodology within the community part of the project.
The Oasis Games methodology was developed in the favelas in Brazil as a way for a community to identify and realize its common goals. The Oasis Games have since spread throughout Europe, South America and the Caribbean with successful community projects, including a very meaningful execution in Dutch Quarter, Sint Maarten in 2013.
Members of the audience also took some time to remind each other of how closely knit the communities in Sint Maarten used to be decades ago as all agreed the community element has become fragmented in our modern day country. The SHOOT HOOPS NOT GUNS Committee will now have individual meetings with the various community councils and finalize the facilitation of the Oasis Games training in Sint Maarten.
More information of the SHOOT HOOPS NOT GUNS campaign can be found on the projects facebook page.