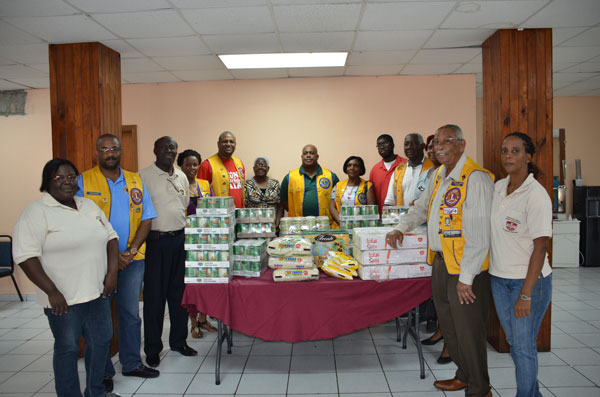 PHILIPSBURG:--- As part of its Centennial Celebration in July 2017, Lions Clubs International has challenged Lions Clubs throughout the world to feed no less than 10 million persons during the week of January 10th to the 16th to relieve hunger around the world.
In response to this challenge members of the Sint Maarten Lions Club have dedicated this week to assisting three "Soup Kitchens" on Sint Maarten by donating valuable food items to be used to feed those who visit these Soup Kitchens on a daily basis.
On Thursday January 14th the Lions made their first donation to the Soup Kitchen of the New Testament Baptist Church in Philipsburg where after prayers by Pastor Nanton, they not only presented a large badge of food stuff to the kitchen but also assisted with serving the food being served on that day to those present. That soup kitchen caters to some 60 persons on a daily basis where those visiting the soup kitchen get a warm meal and a drink. Pastor Nanton expressed much appreciation to the Lions for their generous donation which will help the soup kitchen for some time to come.
On Friday January 15th it was the turn of the "Love Kitchen" of the Christian Faith Ministries in Dutch Quarter where another badge of food stuff was presented to that soup kitchen. Pastor Prophet Eddy Arrindell prayed with the St. Maarten Lions Club members present and gave a brief explanation of the activities of his church for the community of Dutch Quarter. That soup kitchen caters for some 24 persons per day where from Monday to Thursday visitors get a bowl of soup and Fridays a warm meal therefore a donation such as presented by the Lions was much appreciated and the daily visitors to the soup kitchen had much praise for the work of the Lions and personally thanked them.
On Sunday January 17th the Lions completed their special project with the presentation of yet another badge of food stuff to the Soup Kitchen of the Seventh Day Adventist Church in Cole Bay. This very large soup kitchen caters to some 200 persons on a weekly basis where they not only feed those who drop in but also take cooked food to quite a number of elderly in the community, the shot-ins and several single mothers who are really struggling in this community. The Lions were given an extensive explanation of the activities by the staff present. This soup kitchen has a well equipped kitchen where they not only cook but also bake their own bread at times some 300 loaves for distribution to the poor. The selection of items donated to all three soup kitchens consisted of: Rice, flour, oil, peas, corn, sugar, chicken, canned vegetables, canned carrots among other items.
The Lions are very grateful to have been able to put back into the community in this way and are looking forward to assist many more in the future with such projects as their motto is "TO SERVE". For more information about about how you can donate or assist the St.Maarten Lions Club you can email us at This email address is being protected from spambots. You need JavaScript enabled to view it.