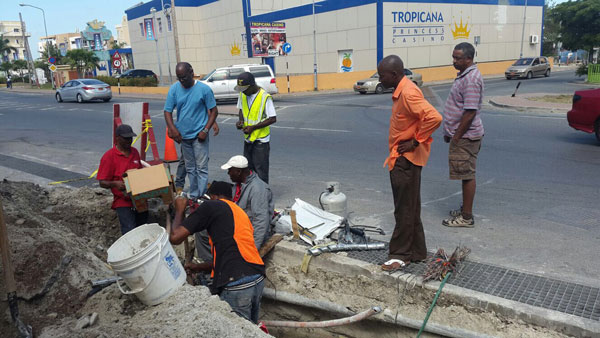 Pond Island:---- TelEm Group technicians are on the lookout for "mystery" repairmen who damaged one of the company's underground telecommunication cables and joined it back together – using duct tape. A second, cable, this one consisting of fiber strands, was also damaged but no repairs were carried out, presumably because of the complicated process involved.
The technicians want to thank the repairmen for recognizing they had caused damage and therefore had to fix it, but they also want to stress how this amateur repair job has caused much aggravation with business and residential customers.
The damage was caused to underground copper and fiber cables in the vicinity of Tropicana Casino in Cole Bay, presumably when workmen were carrying out excavation work close by.
According to Chief Technical Officer (CTO) Eldert Louisa, a string of complaints from customers in the area lead to some troubleshooting which eventually led his team to the makeshift repair job.
"The repair to the copper cable allowed customers to have some kind of service, but especially when the weather was bad, the copper lines would act up because they had not been properly joined," said Mr. Louisa.
He said the Outside plant team responsible for the area were busy doing the correct repairs to the damaged copper cable all weekend and now customers in the area can expect improved connections for their landline and internet services. More extensive repairs on the damaged fiber cable will be carried out within short.
The Technical Director suspects those who may be responsible for the shoddy work, however without any proof he will not commit himself to naming a culprit.
"I would appeal to anyone who damages our underground cables to please inform us so that we can assess the damage ourselves and do the necessary repairs so that we can provide the best service for customers," said Mr. Louisa.
"At least we have to thank the repairman or men for trying to repair their own damage and not just leaving it, but in future we would much appreciate it if they leave the repairs to our own technicians after first reporting the damage to us," said Mr. Louisa.