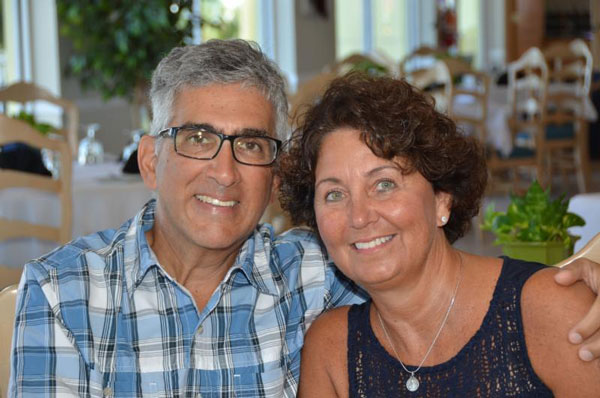 CAYMAN ISLANDS:---- A doctor from Massachusetts is alive today thanks to quick reactions by hotel employees, first responders, and the skilled medical teams and surgeons at Health City Cayman Islands, and he now plans to partner with the facility that saved his life.
Judy Josephs, whose husband Leon had cardiac arrest while on a treadmill at the gym at The Ritz-Carlton Grand Cayman last month, described the coordination of the hotel staff, many Caymanians and the Health City medical teams as a "Christmas Miracle."
After vascular surgeon Dr. Leon Josephs collapsed, Caetano Barrato, Lead Loss Prevention Officer at The Ritz-Carlton, and other hotel employees recognized the symptoms of a cardiac event and administered CPR as well as two electric shocks, before the stricken American doctor was taken to the government hospital (Cayman Islands Health Services Authority).
Once at the hospital, urgent measures were taken and arrangements were made for Dr. Josephs to be sped to Health City Cayman Islands where he arrived unconscious and on a ventilator. "Within 30 minutes he was taken to the Cath lab and an emergency angiogram was done that showed one of the arteries was totally occluded and the other two were more than 95 percent blocked," said Dr. Binoy Chattuparambil, Senior Cardiothoracic and Vascular Surgeon at Health City Cayman Islands.
The blood thinners Dr. Josephs was taking threatened uncontrollable bleeding, so immediate surgery was not wise. Health City doctors decided to delay surgery for 48 hours and used the time to run a battery of tests to ensure the operating team had as much information as possible by the time they started the bypass procedure.
"The surgery took around five and a half hours and he came out of the operating room in very stable condition. After he came to the ICU (Intensive Care Unit), within two hours he was taken off the breathing machine and his recovery was quite smooth and straightforward," said Dr. Binoy, as he is widely referred to.
The Massachusetts doctor, Acting CEO and Vascular Surgeon of Reliant Medical Group, was unstinting in his praise for the medical teams at Health City: "I'm amazingly pleased with my care. I'm a vascular surgeon at home so I see plenty of patients after cardiac surgery and my care, my recovery, in my opinion, was as good or better than (anything) I've ever seen."
He continued: "I saw my nursing care teamed with a doctor much more than I do at home. I found my doctors to be very easy to speak with. My physical therapists (were) very involved in a team with my physicians. So I really felt that there was a team-based care here that was really focused completely on the patient being the center of that. And I really don't think that it has anything to do with the fact that I'm a healthcare executive, or the fact that I'm a physician. I think that's how they treat everybody who comes through the doors of the hospital."
After four days, Dr. Josephs was discharged from Health City and he retains positive memories of his post-operative care at the Health City campus with grounds carefully landscaped by a world class gardener. "This actually was a beautiful recovery ...the focus on patient satisfaction is visible and palpable. They live it every day and they're really good at it," said Dr. Josephs who disclosed his company will consider sending some of its patients to Health City for their care "because the model here is a model that the United States healthcare system is striving to get to."
Senior cardiologist Dr. Ravi Kishore explained Health City is known for its care of patients and their loved ones because of its family approach: "I always think I'm part of the family, so I establish vibes very quickly with the patient. If it's only science it is going to be very tough. And only compassion is meaningless. You have to sensibly mix these things."
Noting the Caribbean's reliance on tourism , Dr. Binoy suggested it was vitally important to ensure that there be more facilities capable of handling such urgent medical needs for locals and for visitors. It is different now for the Cayman Islands "because visitors can enjoy their holidays, knowing if anything happens we have a very well established tertiary care hospital here."
The Cayman Islands will benefit from several more visits by Dr. Josephs as he will eschew U.S. doctors to undergo his follow-up checks with the Health City specialists: "In fact, we'll make a couple of trips (for) post-op checks that I would typically do at home but I think I'm actually going to just come down here and see Dr. Ravi (and) see Dr. Binoy instead just because I feel good about that. They were excellent."
Health City Cayman Islands and Dr. Binoy will also benefit from Dr. Josephs' experience. "We're forming a partnership, actually. He's coming up for me to teach him some newer vascular techniques. Hopefully the day will come when I actually come down here and do some of those with him. That's kind of the plan we started to develop," said Dr. Josephs.