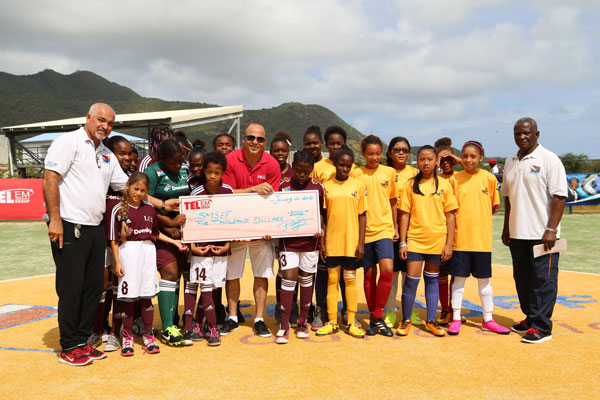 Pond Island:---- Telecommunication provider,TelEm Group, once again scored a goal with organizers of St. Maarten's interscholastic schools soccer program after making a generous donation to the start of tournament play Saturday.
During and official opening ceremony at the Belvedere playing field Saturday morning, President of the St. Maarten Soccer Education Foundation, Mr. David Forsythe, thanked management and staff of TelEm Group for their continued support, noting that this is the third time in a row that the company has contributed toward the Foundation's efforts to improve technical soccer skills and soccer education in St. Maarten schools.
Mr. Forsythe said it is thanks to sponsors like TelEm Group, that cash awards can go to the schools for their respective soccer programs. The funds also assist with various support initiatives including providing kits, balls, training equipment and soccer boots to youth soccer players.
The Foundation president says since the start of the program there have been many positive results, with one of the main rewards being the raising of the level of soccer coaching and quality of play amongst all the participating schools and also the participation of more girls in the sport.
TelEm Group Chief Commercial Officer (CFO), Mr. Brian Mingo, presented a check to the amount of $5.000 to the Foundation Board members who were also joined by two participating teams for a photo-op during which Mr. Mingo acknowledged that TelEm Group will continue to do all it can to promote sports generally amongst St. Maarten's youth, and especially at the inter-schools level.
"We continue to be impressed each year by the high level of the games played and also by the dedication shown by all the parents who turn out each Saturday morning to cheer on their school teams in the spirit of good fun and competition," said Mr. Mingo.
He urged the Foundation to continue doing its good work of hosting the inter-schools soccer tournament while fostering wholesome participation of parents, schools and players themselves in the schools soccer program.