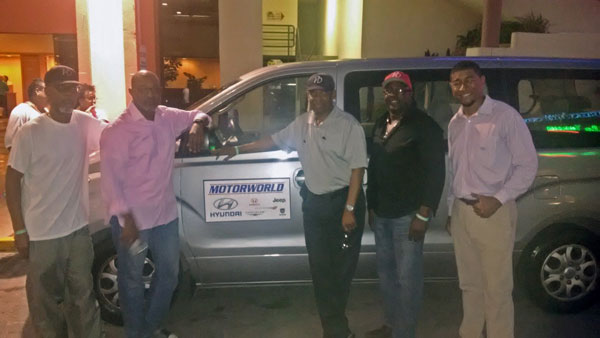 PHILIPSBURG:--- From February 3-8, 2016, youth baseball clinics will be held on St. Maarten for youngster and coaches. The clinics are an initiative of Jeffrey Richardson together with Representatives of the Board of Directors and Executive board of the Piper Davis National Youth Baseball League.
The clinics will be facilitated by former MLB players Tom McGraw, Andrew Dixon, Rafael Skeete along with the league's team of athletic directors and coaches. Former Major League player Rafael Skeete who hails from St Maarten and personal friend of Former Minister Claret Connor called on Connor's assistance in the form of providing transportation for the delegation. Connor was able to arrange a mini-van through the kind support of Tariq Amjad, Managing Director of Motor World N.V.
Connor expressed appreciation to Motor World N.V. for providing the much needed transportation. He also expressed congratulations to Jeffrey Richardson and the organizers of baseball clinics. Connor said "I look forward to positive developments from St. Maarten future athletes whom were able to benefit from this initiative".
The mission of the Piper Davis Baseball League is to provide structured sporting activities that will enhance sportsmanship, self‐esteem, positive character development, discipline and world‐ class academic support to at risk youth and young adults, creating a safe, positive, nurturing environment through the avenues of sports and academia.
From L-R: Former MLB Rick Adams, former Minister Claret Connor, Founder of the League Fred Plump, Former MBL Rafael Skeete and Marketing Officer of Motor World N.V. , Lorenzo Gomez