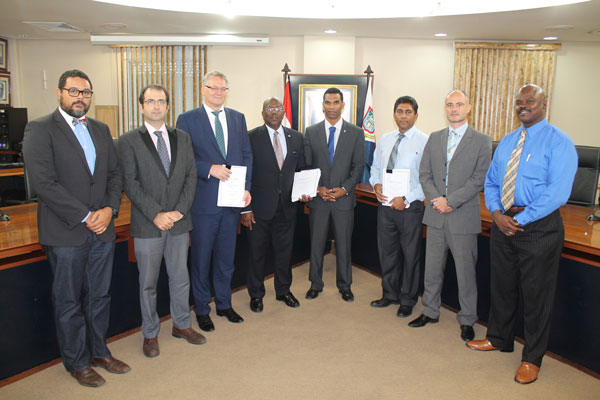 PHILIPSBURG:--- Head of New Projects Kurt Ruan told representatives that the project has been in the pipeline for quite a while. He said since these projects are financed by the European Development Fund (EDF) goes through a lengthy procedure. Ruan said he could remember that the current Prime Minister William Marlin was the one who signed off on this particular projects some years ago.
Ruan said the scope of work entails upgrading of Dutch Quarter main road which was identified by the EDF as a project that came into consideration for financing. Also the eastern section from main road which will include Garden of Eden. The cost of the project is Euros 6.1M while the local government will contribute Euros 1.3M. Ruan said that entire project will take between 18 to 24 months before it is fully completed, therefore he called on residents living in the area to cooperate with the workers that will be executing the project.
Prime Minister Marlin said when the signing took place in 2013 it was former Prime Minister Sarah Wescot Williams that signed off on the project but he spoke at the ceremony as the Minister of VROMI. He said it is known that shortly after a signing then the ground breaking is done. He said because these projects are financed by the EDF is the process takes a bit longer. However, with the signing the government is able to make firmer commitment to the people of St. Maarten. He therefore stated that he hopes the people would not think that this signing is election gimmick, but they will that the signing serious as they could see who are participants who travelled to St. Maarten for this signing. He said that the actual work will not begin before the end of the year, he assured that the funding on behalf of government is budgeted in the 2016 budget.