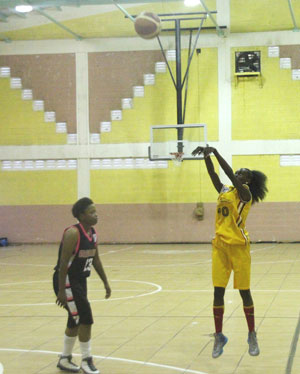 Sucker Garden:---- Week 12 of the Ladies Basketball Championship continued with 2 games last Sunday in the senior division at Melford Hazel Sports Complex/
The first senior game of the day saw Learning Unlimited go up against MGM Lightning which saw Lightning outscore LU 15-0 in the first quarter. Learning Unlimited played MGM Lightning pretty evenly throughout the rest of the 3 quarters of the game but could not make up the deficit. MGM Lightning led 29-10 at the half and won 57-36. MGM Lightning was led by Jonelle Richardson with 16 points and Selah Fleming with 10 points. Learning Unlimited was led by 3 players with 10 points, Rachael de Groot, Jakisha Brooks and Sarai Hernandez.
In the second game of the afternoon, Bush T Remedy went up against Thunderz looking for their second win against them. The first quarter was played pretty evenly and ended with Thunderz up 14-13. Thunderz extended the lead to 31-24 at the half but only led 41-46 at the end of the third. The Thunderz increased their defense which led to outscoring Bush T Remedy 11-2 in the quarter to win 57-43. Thunderz was led by Chantel Hodge with 30 points and Joyette Lloyd with 12 points. Bush T Remedy was led by Jacqueline Hodge with 22 points and Minelva Maduro with 11 points.
The senior division standings are Lightning at 11-2, Thunderz at 10-3, Bush T Remedy at 3-10 and Learning Unlimited at 2-11.
Games continue this Sunday for U16 teams at 2pm and senior teams at 3pm as Lightning take on Bush T Remedy and at 5pm as Learning Unlimited take on Thunderz.