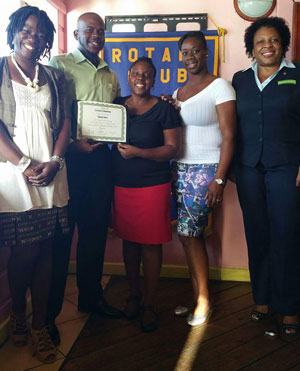 PHILIPSBURG:--- On Tuesday February 9, 2016, Mr. Ruminni Rogers was inducted as the newest member of the Rotary Club of St. Martin Sunrise. Ruminni Rogers who is a Police Officer, the son of Carlyle Rogers and Ramona Riley-Juan Pedro, and a talented Calysonians, who captured the Junior Calypso crown in 2008, has become the youngest member of the club.
Ruminni was a member of the Rotaract Club of St. Maarten Sunrise, the younger chapter of the Rotary Club, where he served with dedication alongside a dynamic group of young professionals. He always says, " Anyone can join an organization, but it takes extraordinary people to make you stay". During his time in the Rotaract Club of St. Maarten Sunrise, he held the position of Sergeant At Arms for the 2015-2016 Rotaract year, and assisted with Public Relations. A strong believer in shooting for the stars, Ruminni decided that it was time to take his services to the next level and took that bold step at an early age of 25 years to transition into Rotary.
President Marcellia Henry stated that 'Ruminni was chosen by the membership of our club because we believe he is a leader in his particular vocation, as Police Officer, and possesses those qualities and values that Rotarians advocate which is Service Above Self.' As a young, dynamic, dedicated, and positive role model, we look forward to the contributions he will make to the club and the community of St. Maarten. We are happy that he decided to move on to the next level and have chosen the Rotary Club of St. Martin Sunrise to by the medium through which he can serve the St. Maarten community.
Rotarian Ruminni Rogers expresses gratitude towards the Rotary Club of St. Martin Sunrise for making him feel at home and he looks forward to serving with this extraordinary group of professionals.
Rotary Club of St. Martin Sunrise meets every Tuesday at the Ginger Bread Café Restaurant at the Belair Hotel at 7:00AM to 8:00AM. . For more information on the club visit us at sxmsunrise.org or email This email address is being protected from spambots. You need JavaScript enabled to view it., we are also on Facebook: Rotary Club of Saint Martin Sunrise.