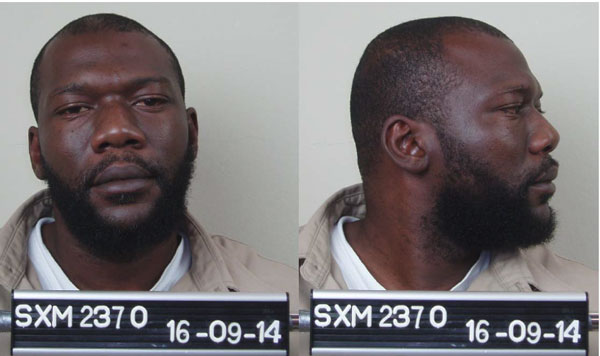 Relatives of escaped prisoner living in fear, pregnant daughter allegedly beaten by father.
FRENCH QUARTER:--- The gendarmes conducted a number of house searches in French Quarter on Friday when they were tipped off that escaped prisoner Kathron Fortune a.k.a. "Cuchi" was spotted in French Quarter.
The gendarmes also used their helicopter to conduct air surveillance to see if they would spot and capture the escaped prisoner who is considered to be armed and dangerous.
SMN News learned that "Cuchi" allegedly caught and beat his 14 year old daughter since he escaped because he understood that she is pregnant.
Besides that all persons relating to Cuchi are now hiding because of fear. Persons that contacted SMN News said that several of his family members and women that have child/children for him are also hiding fearing for their lives. Sources say that relatives of Cuchi are afraid of him because they are the ones that turned him in 2006 when he committed murder and was wanted by police. The sources say that someone they believe to be living in French Quarter is aiding and abetting the escaped prisoner because they know he is moving around in vehicles even though he is not driving those vehicles. The concerned persons are now issuing a call on the person or persons that are engaged in such activities to stop and to hand over the wanted man to police.
Cuchi was serving 21 years for the murder when he escaped last week when taken to a doctor's clinic in Cay Hill. Since then both Dutch and French law enforcement officers have engaged in an island wide search for the prisoner that has been described as armed and dangerous.
SMN News contacted the Commandant of the Gendarmerie Sebastien Monzoni who confirmed that they conducted a huge search on Friday in the French Quarter area after they heard that Cuchi was spotted in French Quarter. Monzoni further stated that the gendarmes conducted a number of house searches. Asked if the information SMN News received about the 14 year old that was beaten, Monzoni said they too got the same information but could not confirm it because so far no official complaint was filed by anyone.
Monzoni also said the gendarmes also got information that his relatives are living in fear but that too he said he cannot confirm because none of his relatives filed an official complaint with the gendarmerie.
Monzoni said he strongly believes that the escaped prisoner is somewhere on the French side hiding out and therefore they will intensify the controls and searches.
He called on persons that have information on the whereabouts of the escaped prisoner to contact them immediately.