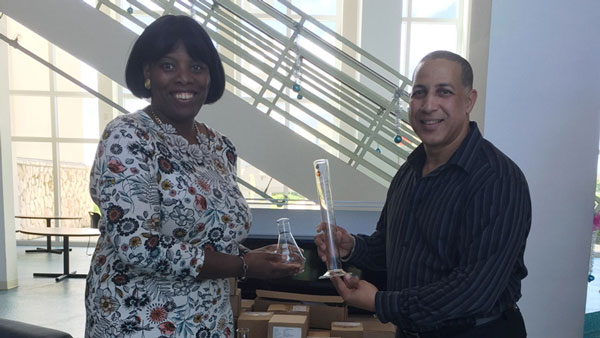 CAYMAN ISLANDS:--- Health City Cayman Islands, a state-of-the-art tertiary referral hospital, recently donated science equipment to two Grand Cayman high schools, John Gray High School in South Sound and Clifton Hunter High School in Frank Sound.
The equipment, which included high quality chemistry and lab supplies, was donated by the Healthcare Explorers Program, a Health City initiative which seeks to provide early and in-depth exposure to tertiary level healthcare to high school and college students in the Cayman Islands. The Healthcare Explorers Program made the donation as part of the international hospital's commitment to support STEM education to prepare young Caymanians who would like to pursue a medical or science-based profession.
Richard Parchment, Program Manager for the Healthcare Explorers Program said, "Health City was eager to help provide opportunities to further educate our future doctors, so donating necessary science equipment to our local students seemed like a natural fit to help further their scientific studies."
"We became aware that the schools' science departments had issues with some specific supplies, including beakers and test tubes, and so we set about to see how we could help," he said.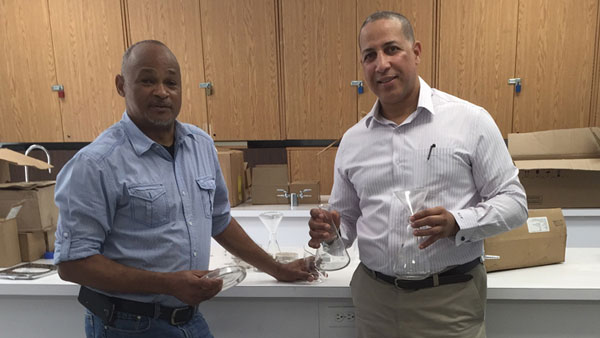 The two schools have been keen participants in the Healthcare Explorers Program since its inception. The schools were selected as part of Health City's ongoing scholarship commitment to the Cayman Islands Government, Ministry for Education.
The donation, which was a surprise to both schools, was a welcome gift and greatly appreciated by teachers and students alike. Mr Godfrey Williams, John Gray High School science teacher said, "Practical tuition, especially when it comes to science, is so important for effective learning. Having the right lab equipment will really help us to undertake science experiments with our students so they can put the theory into practice. Thank you to the team at Health City for their kindness."
Ms Pauline Beckford, Principal of Clifton Hunter High School, said, "The generosity of Health City has been an invaluable asset to our science department, and the equipment will be used to further educate our children."
Gene Thompson, Project Director, said, "Education is such an important part of Health City's philosophy – in order to stay innovative, we have to learn and grow, something our staff and doctors take to heart. We are proud to be able to provide the lab and chemistry supplies to these schools, so that our future generation of scientists, mechanics and doctors can further their education."
The Healthcare Explorers Program offers year round programs, including a robust summer program. For more information, parents, teachers and students are invited to email This email address is being protected from spambots. You need JavaScript enabled to view it..